Nikitta Grender: Timeline of her murder and how killer Carl Whant was caught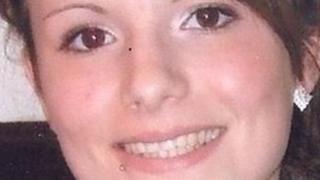 Former nightclub bouncer Carl Whant has been jailed for a minimum of 35 years for murdering pregnant teenager Nikitta Grender two weeks before she was due to give birth.
After a trial at Newport Crown Court a jury found him guilty of murder, rape, child destruction and arson.
Here are the key events in the death of Ms Grender, 19 - and the capture of her killer Whant, 27.
3 February, 2011 - Carl Whant, a double glazing salesman, picks up his new company car - an X reg silver Ford Focus. One light on the car's rear number plate is dimmer than the other.
4 February - 10-10.30am: Whant leaves the house of his girlfriend Rachel Bird, in Lambourne Crescent, Newport, to go to work. The pair have been an item since 2009 and although not officially living there, he stays most nights. Whant agrees to stay in with his girlfriend later that night. They plan to watch the Wales v England rugby match at home and have a curry together.
11-11.15am: Whant arrives at the home of his cousin and friend Ryan Mayes, 17, in Broadmead Park, Lliswerry, which he shares with his pregnant girlfriend Nikitta Grender. The men work together for the same windows firm. Mr Mayes regarded Whant as a "father figure" and the two do practically "everything together".
11.15-3pm: Whant and his cousin spend the afternoon working in the Cwmbran area before deciding to finish work early and watch the rugby together.
5.15-5.30pm: Whant and Mr Mayes briefly call at 51 Broadmead Park so Mr Mayes can get changed after work. Whant has a cigarette in the kitchen and Ms Grender hardly speaks to the former nightclub bouncer. The mum-to-be hated Whant and regarded him as a bad influence on her boyfriend and father of her unborn baby girl. Whant later makes the claim this is when he is invited to have sex with Ms Grender - supposedly at the invitation of his cousin.
5.30pm: Whant watches the first half of the rugby with his cousin at Mr Mayes' mother's house.
6.15pm: The pair arrive at The Star pub in Duckpool Road, Maindee, Newport, to watch the second half of the game with a group of friends. Whant says he drinks two pints of lager while at the pub.
5 February - 12-12.30am: Whant and Mr Mayes continue drinking. The pair, with four other friends, make regular trips to Whant's car to take cocaine. Bar and door staff later testify they do not see Whant involved in a fight or altercation with anyone while he is there.
1am: Whant's girlfriend is "fed up" with waiting for him to come home and decides to go to sleep.
12.30-2am: The group head to Revolution then to a party in Corelli Street. They all squeeze into Whant's car. He drives despite having drunk alcohol and taken drugs.
2.20am: They arrive at the house party. Whant parks his car facing north west. He spends the bulk of his time alone, chatting on Facebook.
4-4.30am: A drug dealer drops off cocaine at Corelli Street. Around 20 minutes later, heavy smoker Whant says he is going to pick up cigarettes from his grandmother's house. His cousin offers to go with him, but Whant says he won't be long. The journey should have taken him eight minutes.
5.06am: Whant's car is filmed driving past Maindee Police Station in Chepstow Road, driving away from the city centre. It is identified from CCTV footage by a vehicle expert - who notices the faulty number plate light.
5.22am: Mr Mayes phones Whant's girlfriend to see if his cousin is with her.
5.30am approx: Ms Grender's neighbour Sarah Voisey, who lives in the flat below, wakes up after hearing a faint beeping sound. Unaware it is the fire alarm above and thinking it is an alarm clock or mobile phone, she returns to bed.
6.16am: A silver Ford Focus is filmed driving towards the city centre.
6.30am approx: Whant arrives back at Corelli Street. Says he was unsuccessful in getting cigarettes from his nan's.
7.30am approx: Ms Voisey wakes up again and smells smoke as she opens her back door to put her baby's nappy in the bin outside.
7.45am: After leaving Corelli Street, Whant and Mr Mayes go to his nan's house. They are there for five minutes and collect some cigarettes from her.
7.50am: When Ms Voisey's flat starts to feel hot, she decides to ring 999. The operator tells her to look outside and she sees an orange glow coming from the flat above. She knocks on the door, but gets no answer.
7.57am: Firefighters arrive and conduct a search of the flat. They see flames coming from the bedroom.
8.08am: Ms Grender's body is found.
9.07am: A senior fire investigation expert arrives - with his first impression being "something does not look right". Whant drops Mr Mayes back home - where the pair see "police and firefighters everywhere". He stays a couple of hours at the scene and is asked to make a witness statement at a police station. Whant does so and provides an alibi for Mr Mayes.
1.30pm: Whant meets up with his girlfriend in Newport city centre. He complains she "has the hump" after he failed to arrive home. Later that evening Miss Bird notices scratch marks on one of his wrists. Whant says they are from a woman who grabbed him in the pub, as she attempted to stop him fighting with another man. Whant takes off his clothes from the night before and leaves them on the floor of the kitchen to be washed.
6 February - Police make the first of several visits to Whant's home. He hands over his jacket, his trousers and the keys to his Ford Focus. He is unable to find his light blue shirt. He makes a statement saying he never had sex with Ms Grender, but claims he once met up with her for "a cuddle and kiss" three years previously.
7 February - Whant's blue t-shirt is found in the wash, and police arrive to collect it. He makes a second and more detailed witness statement revealing his movements on 4 and 5 February.
8 February - Whant's silver Ford Focus is swabbed by forensic scientists. They later find Ms Grender's blood on the underside of the driver's car mat and flooring.
9 February - Whant is arrested on suspicion of murder. For his first six interviews while under arrest he gives "no comment" to every question from officers.
12 February - Following an official disclosure process, Whant learns that his semen has been found on Ms Grender's body and her blood on his clothing. When this is put to him he complains of feeling unwell and refuses to answer any more questions. That same day, after a total of 26 interviews, he is charged with murder, child destruction, rape and arson.
14 December - The prosecution receives confirmation from Whant's lawyers that the defendant is now able to explain why his semen was at the murder scene. When asked why it had taken him so long to recall this, he replied: "I had so much going on in my head."
18 January, 2012 - Whant's trial begins at Newport Crown Court.
22 February - A jury finds Whant guilty of murder, rape, child destruction and arson.