Patient record keeping reviewed by Betsi Cadwaladr University Health Board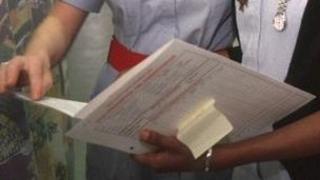 A health board in north Wales is reviewing the way records are kept after a spot check raised significant concerns about standards.
The Health Inspectorate check also raised concerns when reviewing records of audits, complaints, litigation and serious incidents at the Betsi Cadwaladr University Health Board.
A report before the board on Thursday recommends how notes should be kept.
Good records support high quality patient care, it adds.
No examples of bad practice are given in the report but is states that "accurate, legible and contemporaneous service user records are essential to safety for all sectors".
Recommendations for staff include 'good record keeping practice'.
Under the headings of 'relevant, legible, accurate and complete, up to date and easily accessible when needed' are comments such as "don't include offensive, personal or humorous remarks" and "your handwriting is clear".
The report adds: "Good record keeping is all-inclusive - consultants, doctors, nurses, midwives, non-qualified staff, clerks, secretaries, therapists, managers - we all have a responsibility to make sure that the records we use are of the required standards.
"We all have a different part to play, but the goal is the same - good records to support high quality patient care."