Torfaen council pays £400,000 for IT hub under inquiry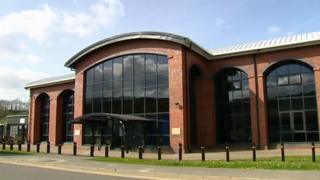 A council, which is making £9.2m cuts, has to pay £400,000 in "unbudgeted costs" for an information technology centre under police investigation.
Three men remain on bail on suspicion of fraud as part of the Gwent Police inquiry at the Shared Resource Service (SRs) in Blaenavon, Torfaen.
The £3m centre opened in 2011 provides Torfaen and Monmouthshire councils and Gwent Police with IT services.
Torfaen council said it was a cost for "unknown or unapproved decisions".
The local authority has introduced a range of cost-saving measures to during the current financial year to help it reduce costs and balance the books.
The measures were expected to bring 80 job losses across the council.
The SRS was opened in February last year by First Minster Carwyn Jones as part of Torfaen council's drive to work more closely with other public sector organisations.
In September, Gwent Police launched an inquiry and the council launched an investigation.
A report this month by Torfaen's deputy chief executive Peter Durkin told councillors that an internal audit review was held after concerns came to light at the IT hub building in July.
'Alleged financial irregularities'
The report said the council was being asked to make the one-off payment as a result of unknown or unapproved decisions made or instigated at senior officer level.
Concluding his report, Mr Durkin said: "In the light of on-going criminal and disciplinary investigations it would not be appropriate to publish within this report the specific breakdown of this cost in full because it may be prejudicial to those investigations."
Torfaen said it was still on track to make the savings despite the £400,000 payment from its reserves in respect of the IT centre at Victoria House, Blaenavon.
A council spokesperson said: "This is part of an on-going investigation on suspicion of alleged financial irregularities.
"Gwent Police investigations are continuing at this time and it would be inappropriate to comment further until the outcomes of the investigations are known."
In a statement, Gwent Police said: "Three men, two aged 50 and one aged 45, from the south Wales area have been arrested on suspicion of fraud in connection with the investigation.
"They have been bailed pending further enquiries."