Welsh farms tested for livestock virus but no confirmed cases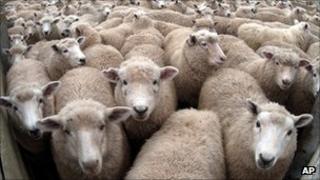 A small number of farms in Wales have been tested for the Schmallenberg virus which causes birth defects and miscarriages in livestock.
The country's chief vet Dr Christianne Glossop said there were no confirmed cases, but the disease was expected to spread to Wales.
A total of 83 cases have been reported in southern England.
Humans are thought to be unaffected by the virus, which is understood to be spread by midges, mosquitoes and ticks.
Dr Glossop said: "In January of this year we found our first cases in England, so the Welsh government is keeping a very close eye on what's happening in mainland Europe, and also in England, and working very closely with our colleagues in Defra to understand exactly where the disease is and the effect it's having on farms.
"As of this afternoon we have no cases of Schmallenberg identified in Wales, but we are very keen for people to let us know if they having difficulties with lambing, particularly congenital defects, birth defects, on their lambs or indeed in their calves.
"As a result of talking with the industry in the last few weeks we have had a small number of cases reported to us, and so we've had some cases investigated but so far we have no positive cases of Schmallenberg in Wales."
But Dr Glossop warned that as the peak of the lambing season approached, there would "probably" be some cases of the virus.
"That doesn't mean the disease is spreading right now, it means the disease arrived in Wales as well as England towards the end of last summer," she said.
She said Schmallenberg was a new virus and first appeared in Germany and then in other northern European countries last year.
In England, it has now been identified on the Isle of Wight and in Wiltshire, West Berkshire and Gloucestershire.
This is in addition to farms in Norfolk, Suffolk, Essex, Kent, East and West Sussex, Hertfordshire, Surrey, Hampshire and Cornwall, which have previously identified cases.
Infection is apparently symptomless in adult sheep. However, the virus can damage the foetus when pregnant females are infected, leading to a range of deformities at birth.