Breast implants: Extra clinics for Welsh patient demand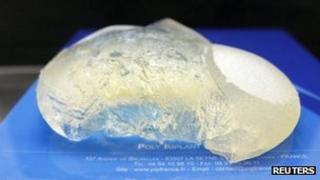 Extra clinics could be laid on to cope with the number of women in Wales who need faulty PIP breast implants removed, a plastic surgeon says.
About 1,000 women in Wales received the banned implants, the BBC has learned, down from an initial estimate of 2,000.
The Welsh government has agreed to pay to replace the implants for those treated privately if there is a clinical need.
Some of the women from north Wales may be treated in Liverpool.
By the end of February, 216 Welsh women had been referred for treatment at the Welsh Centre for Burns and Plastic Surgery at Morriston Hospital in Swansea.
It is believed that all of the patients where the provider is known received their implants privately outside Wales.
Hamish Laing, a consultant plastic surgeon who heads the Morriston plastic surgery centre, told BBC Radio Wales' Eye on Wales programme that the first appointments at the hospital could be later this month.
Those with leaking implants could have surgery in six to eight weeks, and other patients, it is hoped, within six months of referral.
Extra clinics may also have to be laid on to cope with the workload and women in north Wales will probably be sent to surgeons from Liverpool, Mr Laing added.
Banned implants
The PIP implants were banned in March 2010 when French authorities discovered the company had been using industrial-grade silicone.
At no point did the NHS in Wales use the implant.
Women who have received the implants say they are desperate to have them replaced.
Karen Arthur, 30, from Pontypridd, said she had gone back to her surgeon after experiencing a "burning sensation" across her chest.
She was told she had the PIP implants but that she had nothing to worry about.
However in February 2011 she found a lump in her breast - which was scanned and found to be "nothing sinister - then in September she discovered a large lump down her side.
"I was thinking the worst, it's going to be breast cancer," said Ms Arthur, who paid £4,000 for her implants in 2004.
"I went back to the same GP, who referred me again to the breast clinic.
"They scanned me and confirmed straight away that the implant had ruptured. You could see the rippling, you could see the tear.
"The snowstorm effect... that it was silicone in my lymph nodes and that there was a further three lumps up into the top of my arm."
'Seeping green'
Sue Cresswell, 46, from Caerphilly, said she started getting night sweats in May 2009 and went to her GP.
"The last year it's got actually worse. It actually some nights feels like someone has wrapped something around me and is squeezing extremely tight," she said.
"I find it hard to lift my arms. I end up with numbing sensation down my arm on my left side.
"In both of my boobs I'm actually seeping green."
Becky Little, 38, from Cross Keys near Newport, said she was "spontaneously sick" when she realised her implants were PIP ones.
She said she was grateful to Health Minister Lesley Griffith who decided to replace faulty implants on the NHS - going a step further than England, where the NHS will only remove the implants.
"I don't think it's the time to segregate women off for what reasons they have had [implants] done," she said.
"There's one element in all this and that is what we have paid for we haven't had.
Necessary paperwork
"We have had a substandard implant put into our body that shouldn't be in a human body."
To qualify for NHS treatment, Welsh women need to show they have the PIP implants, that they live in Wales and have a Welsh GP and that their private clinic has refused to support them.
Of the 216 women so far referred to the Morriston clinic, just over half have not yet provided all the necessary paperwork.
The Welsh government told the BBC it had arrived at the new estimate of 1,000 affected women using postcode data obtained from private providers.
Eye on Wales is at 12:00 GMT on Sunday, 4 March on BBC Radio Wales.