Welsh Lib Dem conference: Kirsty Williams says Labour lacks ambition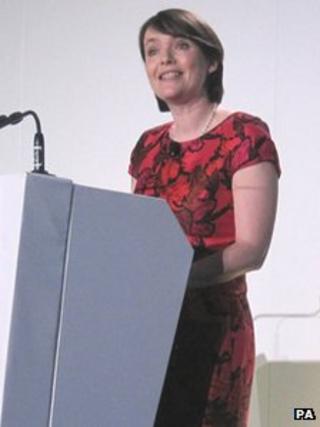 Labour has failed to live up to the promise of last year's referendum to boost the Welsh assembly's powers, the Welsh Liberal Democrat leader says.
Kirsty Williams accused Labour of lacking ambition since being re-elected last May.
She told her party's conference that, under Labour, businesses, patients and pupils were being "left behind".
But she hailed a deal on the Welsh government's budget as proof the Lib Dems were "making a difference".
She said schools - some in key political battlegrounds - will receive £450 for every child on free school meals as a result of the budget.
The message was designed to rally the troops before local elections in May.
Lib Dems in the assembly were delivering on the party's priorities by using their influence on the minority Labour government, she said.
Her speech at the conference came on the first anniversary of last year's law-making referendum.
She criticised First Minister Carwyn Jones' government's decision to bring forward a bill on local government by-laws as the first piece of legislation which uses the assembly's enhanced law-making powers.
"It is hardly the great leap forward is it?" she said.
Ms Williams recalled the "feeling of hope and optimism" a year ago as it emerged there would be an overwhelming Yes vote in the referendum.
"Some say that legislation isn't everything and to some extent I agree," she said.
"But this speaks volumes about the lack of ambition, imagination and sense of urgency that characterises the Labour leadership."
She attacked Mr Jones's slogan of "standing up for Wales".
"It's difficult to take him seriously when he's slouched over his podium at first minister's questions," she said.
The findings of a BBC Wales/ICM poll this week showed the Lib Dems - the "original party of Wales" - were in tune with public opinion, she claimed.
'Pounding the street'
The poll found two-thirds backed handing at least some tax-varying powers to the assembly, but weak support for Welsh independence.
Last November Ms Williams brokered a deal with Mr Jones to pass his minority administration's spending plans.
It would have been easier to "sit on the sidelines and take pot shots", she said.
"But Wales needed a budget and it is a better budget for our influence."
She offered a defence of the Lib Dems' coalition with the Conservatives in Westminster, saying the UK government was "lifting millions of people out of paying income tax".
The party faces a month of "pounding the street" before the local elections in May, Ms Williams said.
The Lib Dems will face particularly stiff challenges in Cardiff and Swansea as Labour tries to wrestle back control of the cities' local councils.