Dyfed-Powys Police chief Ian Arundale to retire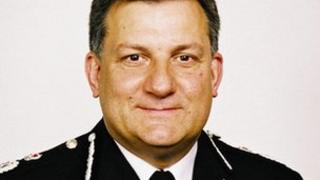 The chief constable of Dyfed-Powys Police Ian Arundale is to retire in June, it has been announced.
Dyfed-Powys Police Authority said Mr Arundale, who has been a police officer for 32 years, was an extremely able individual.
He was unveiled as the force's chief constable in 2008, succeeding Terry Grange.
He was formerly deputy chief constable of West Mercia Police and started his career at South Wales Police.
Dyfed-Powys Police is facing major financial challenges, and it must find savings of £34m by 2015 and £13m in each subsequent year.
But the chair of the police authority, Delyth Humfryes, said despite these challenges Mr Arundale had lead a force which was one of the best performing in the UK.
Mr Arundale said the last four years had probably been the most challenging and rewarding of his career.
"During this time, the force has seen significant changes to our structures and the implementation of new approaches to how we deliver our services," he said.
"Performance has been outstanding, despite the huge disruption caused by the need to strip £13m out of our budget.
"There have also been significant operational successes perhaps most notably the conviction of Wales' most notorious serial killer John William Cooper."
He said the loyalty and commitment of everyone working to serve the communities of Dyfed and Powys was something he would remember "with great pride".
Area commander
Mrs Humfryes said: "On behalf of members of the police authority, I would like to wish Ian the very best for the future."
Mr Arundale served in a variety of posts after joining South Wales Police in 1980, including as area commander in the western area.
He became assistant chief constable at West Mercia in November 2000 and deputy chief in 2005.
Mr Arundale has a MSc in criminology and criminal justice from Cardiff University, as well as a BA in police studies from the University of Glamorgan.
He has also studied law and order throughout the United States.