Sport Relief: Team Wales aims to be First Nation Home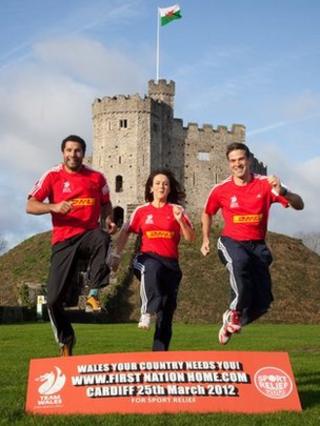 Welsh sports stars and celebrities are challenging the other home nations in a 1,000 mile race in aid of Sport Relief.
Rugby stars Gareth Thomas and Richard Parks and athlete Iwan Thomas are among those taking part in First Nation Home.
Teams from Wales, England, Scotland and Ireland are competing in the fund-raising event which begins on Saturday.
Money raised for Sport Relief will be spent supporting poor and vulnerable people in the UK and in developing countries across the world.
The contest will see four celebrity teams from each of the home nations raceover 1,000 miles around the UK - sailing, running, rowing and cycling - over a seven day period to raise money for Sport Relief.
Team Wales set off from Cardiff Castle at 07:00 GMT on Saturday, while their rivals started simultaneously from their home cities of London, Edinburgh and Dublin.
Gethin Jones, the Welsh team captain, said: "Everyone representing Team Wales has been training extensively over the past few months in preparation for what's sure to be a tough week, and it would be great to see as many Welsh fans as possible to send us on our way.
In pictures: First Nation Home race
"It's been very competitive between the teams, and we're confident that we can bring the trophy back to Cardiff.
"Most importantly it's a great way for the public to get involved and help us raise money for a fantastic cause."
Other members of the team include TV presenters Iolo Williams and Frances Donovan, sailor Ed Wright, cyclist Matthew Page and rugby player Dafydd James.
The team will follow a 1,000 mile route heading north from Cardiff via Liverpool, Ireland, Scotland, northern England and London, returning to Cardiff on Saturday 17 March.
Most of the challenge will involve running or cycling along the land routes, although the team will take to rowing machines on the ferry crossing from Liverpool to Dublin, and will sail from Larne to Stranraer.
Members of the public will have an opportunity to represent Wales in the final stage of the challenge by signing up to take part in a six mile run starting at Roald Dahl Plass in Cardiff Bay on Sunday 25 March.