Malaysia military funeral for 1950 RAF crash sergeant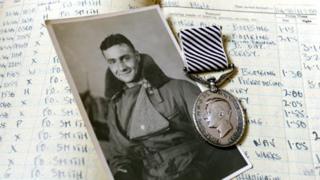 As she grew older, Glenwyn Davies, 65, thought more and more about her father, who was killed in an aircrash in a faraway jungle when she four.
She began to research her father's life, and death, more fully once she retired and husband Mansel gave her a computer.
Before long, she had found relatives of some of the 11 others who died with him when his RAF Dakota crashed into the trees in Malaysia in 1950.
Now she is at his graveside as his remains are reinterred with full military honours at a Commonwealth war graves cemetery.
Before leaving her home in Merthyr Tydfil, Mrs Davies said: "We have waited now for so long and now it's all coming together.
"There's no-one who really remembers him. All the next generation have passed. I am doing it for them."
Her father was signaller Sgt Thomas O'Toole DFM, one of the four crew on the RAF Dakota on a target-marking mission as part of the British effort in the anti-communist guerrilla war known as the Malayan Emergency.
Although only aged 34, Sgt O'Toole was no stranger to the risks of war.
The former south Wales miner gave up his job - a reserved occupation in wartime Britain - to volunteer for the RAF in 1941.
His service saw him awarded the DFM - Distinguished Flying Medal - and included him being shot down off neutral Sweden.
The plane ditched into the sea in 1943 and Sgt O'Toole was interned by the Swedish authorities.
Mrs Davies said: "Through research on the internet, I have seen people who were with him when he was interned during the war.
"I should imagine he was brave to do all that. He did not have to go to war. He was a miner."
Continuing in the RAF after war's end, Sgt O'Toole ended up in at RAF Changi, Singapore, during the Malaya emergency.
It was from there that he took his last, doomed, flight, in a Dakota KN630. The cause of the crash was never determined but may well have been due to engine failure.
Others on the plane included Army personnel, a Dane and three Malaysians.
A search party later found the wreckage but, due to the conditions of war and the terrain, the bodies were buried at the scene in a communal grave.
Two chaplains reportedly held a service from helicopters flying above the scene.
The bodies may have remained there but for the brother of the 23-year-old navigator, Geoffrey Carpenter, whotold the Daily Mailhow he contacted the Malaysian High Commission in 2008 asking for a map of the site.
The Malaysians ordered a 150-strong expedition of team of military, police and specialist forensic archaeologists.
Mrs Davies said: "I was told about it in 2008. It was such a difficult task. They had tried quite a few times. It was in the jungle and the monsoon weather was against them most of the time.
"It was quite dangerous for them."
The Malaysians' efforts have led to the ceremony on Thursday at the Commonwealth War Graves Commission plot at Cheras Road cemetery in Kuala Lumpur.
Mrs Davies will receive the Elizabeth Cross, given to the relatives of those killed in conflicts since the end of World War II.
She has taken a silk wreath featuring daffodils to lay at the gravestone.
She hopes it will bring an end to a chapter that was left unwritten when she was still a little girl, and an only child.
Her mother Catherine, died in 1990, without having had a chance to stand at her husband's graveside.
Mrs Davies said: "In those days, people just accepted things. There was nothing you could do."