Rural 'ghost towns' warning by MPs Glyn Davies and Albert Owen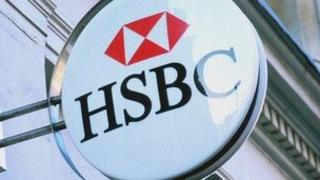 Two senior Welsh MPs are warning that people in rural communities may end up living in "ghost towns or villages".
Montgomeryshire's Conservative MP Glyn Davies and Labour's Albert Owen, MP for Ynys Mon, said they were concerned for the future of rural communities.
Many had seen services such as banks or bus routes closed or cut, they said.
The debate over services for rural areas was highlighted last week when the HSBC bank closed its branch in Presteigne, Powys.
HSBC said it was one of the most under used branches in the country.
Mr Owen said he had concerns about all sorts of services including banking, post offices, shops and public houses.
"There are massive dangers because we are talking about institutions that have been there for many decades, and if they go then we are in danger of reducing rural services to not just second class, but in many areas, just ghost villages and towns where people just live," he said.
"There's more to living in the countryside than living in just green open spaces," he added.
"There's a community there and that community is undermined when facilities like banks and shops and post offices close down."
Glyn Davies, the Conservative MP for Montgomeryshire, said urgent action was required.
"It's my mission in life to slow that process down, not just on bank services but on all rural services, because we've seen them disappearing from rural areas for as long as I can remember," he said.
He added: "The consequences if banks and other national bodies pull out of villages is that they'll leave them as dormitory villages, ghost villages in terms of community activity.
"I think there's a responsibility on banks, particularly since they've had a lot of money from central government to survive, to make sure that doesn't happen."
Mr Owen said he was meeting management at the HSBC bank in the next few weeks to express his concerns.
'Valuable institution'
"I don't think they get it. They think they can do it one by one just closing their branches down," he said.
"We need a network of banks. They were set up so that you could walk in through the door and get your money out.
"Now that money is being played with like monopoly across the world and we're losing that valuable institution."
HSBC has said the number of customers using the Presteigne branch had fallen significantly over the past few years and it had become one of the most under used branches in the country.
The British Bankers' Association said more customers now go online and banks had to examine branch running costs.
Sunday Politics Wales is available in the UK on the BBC iPlayer for the next seven days.