Environment Agency Wales water supply complacency warning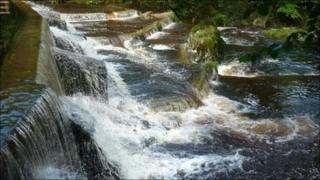 Wales should avoid being too complacent about its water supply levels, the Environment Agency Wales (EAW) has warned.
EAW director Chris Mills said Wales had enough water "at the moment".
But he added that some rivers were at their limit in terms of how much water could be taken without harming the environment.
Calls for Wales to supply surplus water to drought-hit England were dismissed as "too costly" by Welsh Water.
The company said pumping water would prove very expensive and English water firms would would be looking at other solutions.
EAW said periods of exceptionally dry weather in recent years had pushed parts of Wales close to drought with many rivers running low.
The agency warned that if Wales suffered a dry spring and summer this year the situation could worsen and impact wildlife living in rivers.
It said it had prepared a drought plan for Wales in the event of this happening, and added that the nation was also likely to face future pressure on its water resources as a result of climate change.
"Although we have enough water in Wales at the moment, there is no room for complacency," said Mr Mills.
"There are some rivers which we believe are at the limit for how much water is available to be taken without harming the environment.
"We have to make sure that there is enough water available for people and for businesses as well as for the wildlife that relies on healthy flows in our rivers."
Mr Mills said important species of fish such as salmon and sewin could be harmed by low water levels.
Low levels could also heighten the effects of any pollution incident, he added.
He said the agency was working with water companies and the Welsh government to ensure enough water would be available for all who needed it.
'Prohibitive cost'
On Monday, Welsh Water said moving water from Wales to drought-hit southern and eastern England would be too costly and damaging to the environment.
Nigel Annett, the firm's managing director, told BBC Wales it was possible but the cost was "truly prohibitive".
At a drought summit last month calls were made for better interconnectivity between water companies.
On Monday seven English water companies announced hosepipe bans from 5 April.
The companies said the water restrictions followed two unusually dry winters which have left reservoirs, aquifers and rivers below normal levels.
In June 2011 London Mayor Boris Johnson raised the idea of moving water supplies from Wales and Scotland to areas of shortage in the south and east of England.
Last month The Institute of Civil Engineers (ICE) said it wanted changes in approach to water management, including improved interconnectivity between water companies.
The Welsh government said it would expect any new or expanded demand for Welsh water resources in England to be met "only where there is a mechanism by which Wales derives real benefits based on resource used".
"Although the water supply situation in Wales is good at the moment, the Welsh government realises that this can change relatively quickly depending on rainfall situation," the spokesman added.
"We have not been approached by the UK government to assist with water shortages but are in regular contact with relevant people in UK government and key regulators."
'Fewer crops'
Gwyn Jones, who is originally from Trawsfynydd, near Dolgellau, has run a dairy farm in the south east of England for the past 30 years.
He told BBC Radio Wales that he collects and stores the rain water from his entire dairy complex in a couple of small reservoirs but feels farmers like him can still do more to conserve water.
He said: "There's no doubt this spring fewer crops will be planted as a result of this [drought]. People will only plant what they then are able to irrigate.
"I think we can all do better. There's always room for improvement, certainly given that we've had about 70%-75% percent of our rainfall. We've got to think very hard now about how we do things.
'Change behaviour'
"In the past, water companies have had quite a tight regime on when farmers can fill reservoirs, which hasn't made sense. They are relaxing that now and whenever there's water available, farmers can fill reservoirs, rather than just at certain times of the year.
"Economics dictate that it would actually be cheaper to build desalination plants than to pump water great distances. It's not a particularly cost effective thing to to do.
"I think the key to this is to change behaviour because, let's be honest, we've all been pretty free with water haven't we? We've not really valued it as much as we should have done.
"Having a hosepipe ban and restrictions now enable us not to get in to real crisis in 2013."
Roger Falconer, professor of water management at Cardiff University, told BBC Wales it would be possible to transfer water from the lower reaches of the Severn to the Thames via the canal system across the Cotswolds.
'Profligate'
He said: "That is quite feasible. It does offer an option in the sense that it acts as a reserve and it would only be used in extreme drought conditions. That wouldn't affect Wales in any serious way."
But he said the UK need to focus on "big challenges" it faced over water in coming decades with the population expected to increase by 10m by 2030, with most of that in the south east of England, combined with an increased pressure for food self-sufficiency against a background of climate change.
Gareth Clubb, director of Friends of the Earth Cymru, said the south east of England was the "most profligate" area for water use.
He said: "Before we look at any expensive and carbon intensive scheme of water transfer, what we should be having is 100% rated metering, particularly in the south east of England.
"At the moment, the meter rating is less than 30% in this part of England."