Roy Noble moves to weekend show on BBC Radio Wales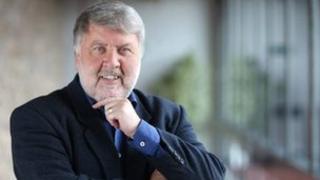 BBC Radio Wales presenter Roy Noble is to move to a weekend show after more than 25 years of daily broadcasting.
The Sony award-winner revealed his plans for the autumn move live on air during his afternoon show on Tuesday.
He said he was going to "do a Wogan and continue the job I love, but in a once a week scenario".
BBC Radio Wales editor Steve Austins said Noble would continue to be a "key part" of Radio Wales, with a revised schedule due to be announced.
Writing on Facebook, the presenter said he had a "Road to Damascus moment".
He added: "I've decided to come off the conveyor belt in the autumn.
"I'll 'do a Wogan' and continue the job I love, but in a 'once a week' scenario… one programme at the weekend.
"In that way I can maintain my contact with you... a relationship I so cherish and value. I'll keep you informed as the year unfolds."
Mr Austins said: "It has been said over the years that Roy is an institution; a legend. And so he remains.
"He has been a key part of the daily broadcasting landscape for over a quarter of a century and I'm delighted to say that he'll be a key part of the station's schedule in the future."