Edwina Hart admits brand image of Wales 'not right'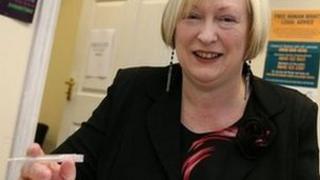 Business Minister Edwina Hart has admitted the Welsh government "has not got the branding of Wales right".
She said branding was a key part of attracting inward investment and tourism from abroad.
A team of experts is working on the government's message to potential investors and visitors.
The Conservatives said the Welsh government was not "selling" Wales properly around the world.
But Mrs Hart defended the government's record on economic development in the wake of disappointing figures.
The European Commission's statistics agency Eurostat said on Tuesday that Welsh GDP was less than 80% of the EU average for 2009.
Mrs Hart told AMs: "The one criticism I would take is that I don't think I've got the brand of Wales right.
"I need a brand. A brand that's identifiable in Wales terms which takes in the economy, inward investment, tourism, all of that, that takes in everything.
'In the market'
"We are currently working on the brand images and putting the appropriate staffing in so we have people that are really in the market, that understand what the brand of a country is and then how you can put all the bespoke areas off it."
She told the enterprise and business committee: "People are concerned about how we are seen, and what images we portray, and that links to what image I might put in a tourism advert as well as what I might put on a poster for business - so it's all got to be absolutely integrated.
"I don't think we've necessarily done that very well in recent years."
Her comments come after Wales' record in attracting investment from overseas has been criticised.
Last month, MPs on the Welsh Affairs Committee said opportunities to woo investors had been missed since the abolition of the Welsh Development Agency in 2006.
Scrapping the WDA had "reduced Wales's visibility in the global market place", it said.
Welsh success in attracting foreign businesses has deteriorated since the late 1980s and early 90s when it accounted for 15% of investment into the UK. By 2009-10 it was down to 6%.
An earlier report by Cardiff Business School said Wales was lagging behind almost every other part of the UK.
Shadow enterprise minister Nick Ramsay said: "Despite all the defensive rhetoric, the minister in charge has finally given us the truth we all knew already.
"Simply, Wales is not being properly sold and European funds have been mismanaged in the past."