Alcohol Concern Cymru claims children exposed to drink advertising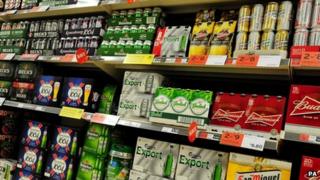 Children are more likely to identify alcohol through advertising than popular food and snack brands, a health campaign group claims.
Alcohol Concern Cymru surveyed more than 400 youngsters and claimed marketing of drink brands was "getting through" to children as young as 10.
It believes advertising can make it more likely for them to start drinking.
But the drinks industry has rejected the claim and says there is no proven link between the two.
The Making an Impression study involved 10 and 11-year-olds.
They were shown brand names and logos of alcohol and non-alcohol products, as well as images from a television alcohol advert.
'Positive expectations'
They were asked to say whether the products were food, soft drink or alcohol.
The study found:
79% recognised Carlsberg as alcohol while 74% correctly said Ben & Jerry's ice cream was food - but only 41% knew Mr Kipling cakes were food
95% of the children recognised the brand logos of Fosters and Stella Artois as alcohol
Fictional characters for a Fosters television advert were more well known than characters in a Cadbury chocolate advert
Mark Leyshon, from Alcohol Concern Cymru, said: "The drinks industry asserts very strongly that it doesn't aim its advertising at children.
"However, this new study provides more evidence that alcohol marketing messages are getting through to young people well before they are legally able to buy alcohol.
"Research shows that children who are exposed to alcohol advertising and promotion are more likely to start to use alcohol, have positive expectations about alcohol, and to drink more if they are already using alcohol."
Mr Leyshon called for more effective controls to make sure alcohol adverts only reached adult audiences.
But Henry Ashworth, chief executive of Portman Group, the social responsibility body for alcohol producers, said it was not necessary.
"The claim that awareness of alcohol brands is causing more children to drink alcohol directly contradicts the latest statistics which show a continued and significant downward trend in the number of children trying alcohol," he said.
"The UK has strict rules to prevent alcohol being marketed or sold to children and these rules are rigorously enforced."
The Campaign for Real Ale (Camra) in Wales also criticised the report.
Welsh spokesman James Daley said: "I totally reject what they are putting out. Is it a bad thing that they recognise alcohol?
"At the moment, you have to be 18 to get served - what more controls do you want?"