Church in Wales conference to tackle domestic abuse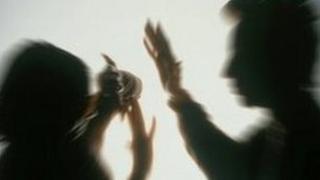 The Church in Wales is to debate its response to issues of domestic abuse at a conference in Cardiff.
It has joined forces with Welsh Women's Aid and other bodies to support Christians who are being abused.
Victim Natalie Collins revealed how she struggled with biblical interpretations of marriage when she suffered domestic violence.
The Reverend Carol Wardman, a Church in Wales adviser, said they wanted to send a message the issue is taken seriously.
The conference was held at St John the Baptist Church in Cardiff on Monday.
Mrs Collins, who is a development officer for a Christian alliance group Restored, suffered years of abuse by her husband. As a result, her second child was born three months prematurely.
She feels the church is not "equipped" to deal with domestic abuse.
She said: "I am from a Christian family and although my faith is one of the reasons I am a healed and whole person, it was also one of the reasons I felt unable to leave my abusive ex-husband.
"I believed I needed to forgive him and that if I just prayed hard enough, he would stop hurting me. It was only after I escaped the abuse that I learned God did not require me to continue being abused."
Mrs Collins said forgiveness was "not being a doormat".
"Sometimes, the only answer churches give women is an offer to pray for them or counsel the abusive partner, an action which could create even more problems," she added.
The conference will include participation from organisations including Mind Cymru, St John's Church Cardiff and Mothers' Union Cymru.
The Reverend Carol Wardman, bishops' adviser for church and society, said victims of abuse came to the church looking for help.
"We want churches to send out the message that women can come forward and will be taken seriously and given the support they need," she said.
"Violence, aggression and bullying, especially in relationships that should be characterised by love and care, are particularly horrible violations of the Christian principles of love and freedom from fear, and undermine personal and spiritual wholeness as well as personal safety, respect and self-esteem."