Licensed trade concern at late night levy for pubs and clubs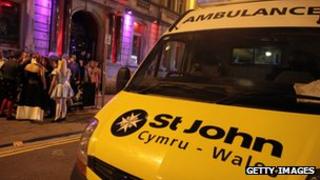 Plans to charge premises selling alcohol after midnight to cover costs of managing town centres at night have been branded a "stealth tax".
The Home Office is consulting on laws which would allow councils in England and Wales the option of a levy.
UK ministers said taxpayers should not be left to pick up the cost.
But the Cardiff Licensees Forum told BBC Wales members view the Late Night Levy as a "kick in the teeth" that could put some out of business.
Cardiff has Wales' biggest night-time economy with 460 of the 1,114 licensed premises trading after midnight.
Cardiff Council deputy leader Judith Woodman tells Sunday's Radio Wales programme Eye on Wales that she backs the plan if it will make the city centre safer on nights out.
The Home Office is currentlyconsulting with peopleon the levy which could be introduced this autumn.
'Pick up this cost'
The amount will vary on the size and nature of the licensed premises but could be as high as £4,440 a year.
"Where there is a vibrant late-night economy, with premises remaining open into the early hours, then the local authority should have the flexibility to charge for a contribution towards any extra policing that this generates," said Home Office minister Lord Henley.
"Taxpayers should not simply be left to pick up this cost."
Police and the licensed trade have developed a range of initiatives over the years to keep people save in Cardiff city centre.
These include serving plastic bottles and 'glasses' on match days, setting up triage treatment centres to reduce the pressure on the local accident and emergency department and setting up a volunteer street pastors scheme to help vulnerable people who may have drunk too much.
As chair of the Cardiff Licensees Forum, Nick Newman - who also manages the Live Lounge venue in the city centre - argues that his members are doing enough already and should not be expected to pay levy on top.
"I honestly can't see that there would be the need for it," he said.
"I'm hopeful that the partnership working that we've done will stand us in good enough stead with the police and local authority for them to say, 'We've got all the things going on that the Late Night Levy would pay for' and therefore there's no need to have it."
Community safety
He fears any levy could hit jobs, with some premises choosing to close at midnight to avoid the charge.
"Some businesses operate on very narrow and tight margins and some operators that employ only a few staff, it could well be the difference between them staying in business and not," he said
The decision to introduce a levy will rest with the council.
Cardiff has so far spent £165,000 this financial year on employing taxi marshals, while an extra £30,000 was spent over Christmas on extra street cleaning and community safety initiatives as part of "Operation Mistletoe".
Judith Woodman, Cardiff Council's deputy leader with responsibility for community safety, stresses discussions are on-going with no final decision yet being made.
"Having seen the effect of Operation Mistletoe on the city centre I personally would like to see it continue," she said.
"But it does come at a cost.
"With further cuts to follow from Westminster and the Welsh government, I can't say for definite we will be able to carry them on.
"That's why I think the Late Night Levy might prove very useful for us."
Eye on Wales Sunday 18 March 13:05 GMT