Stephen Clee, 57, allowed to play rugby after age ruling change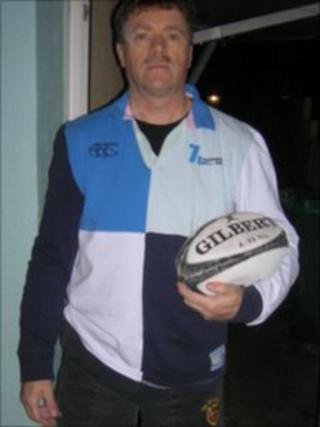 A 57-year-old rugby player has returned to the game after officials revised the age limit which forced him to retire.
Stephen Clee from Tonyrefail, Rhondda Cynon Taf, had been semi-retired from the sport but enjoyed filling-in when his local seconds team was a man short.
However, he was told in November 2010 he could no longer play as the Welsh Rugby Union insurance policy would not cover him after his 56th birthday.
It has since raised the age limit to 65 allowing his return to the game.
The WRU confirmed they had reviewed the policy at the start of the 2011/12 season.
However, front row Mr Clee said he still believed he was banned from participating until recently.
"I didn't have a clue," he said.
"It was only after I was invited to play in a charity match for the Gwlad internet rugby forum that someone mentioned that they thought the rule might have been changed.
"So Age Cymru started doing a bit of digging for me and they discovered that, yes, I was fine to play now."
After being originally told he could not play, Mr Clee took his case to the Equality and Human Rights Commission Wales.
There was also pressure from charity Age Cymru.
A WRU spokeswoman said: "All clubs in Wales were informed that the age limit had been changed and in doing so all players would have been made aware of this."
Mr Clee made his return to action on Saturday, playing at hooker for all but three minutes of the Gwlad side's Six Nations charity fixture.
But despite this triumphant return, he says it will probably not herald a full comeback.
"I spent two years fighting this rule, and now I discover I'm allowed to play again, I don't really want to," he said.
"I became a grandfather a fortnight ago, and I just want to spend my Saturdays with my beautiful granddaughter.
"But I am chuffed because it's a victory for all the older people like me who try to keep themselves fit and active and involved."