Manic Street Preachers' James Dean Bradfield hosts BBC Radio Wales show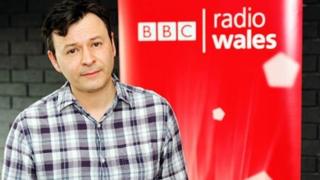 Manic Street Preachers frontman James Dean Bradfield will be taking to the airwaves of BBC Radio Wales, but this time as a presenter.
He will present the first of two programmes on BBC Radio Wales from 19:00 - 22:00 GMT on Saturday.
The Blackwood singer-songwriter will cover for Bethan Elfyn, who is on maternity leave.
Listeners are told to "expect the unexpected" and Bradfield said it was a privilege to step into the role.
Bradfield is expected to play many of his favourite tracks from the artists such as Y Niwl, The Afternoons, Trwbador and John Cale.
Bradfield said: "To be able to make a programme where you can play Rush and Orange Juice in the same show is such a privilege."
Many of the tracks will be reminiscent of his early life in and around Blackwood, Newport and Cardiff.
The programme will include be a feature entitled "albums to hear before you pop your clogs".
Producer Darren Broome said Bradfield was a "natural presenter".
"Passionate and engaging, a real treat for anyone who's a fan of music. James took to the role of presenter with total dedication," he added.
"He suggested tracks, picked artists and chose tunes with ease; his love of classic rock comes over so strongly in both programmes."
James Dean Bradfield is on BBC Radio Wales from 19:00 - 22:00 GMT on Saturday, March 24.