Police doctor kept quiet about patient death inquiry, GMC told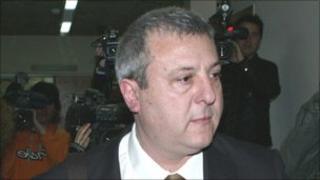 Medical watchdogs have heard how a doctor spent two years working for a police force while being investigated over a cancer patient's death in Spain.
Dr Marcos Hourmann, 52, was eventually convicted of manslaughter following the so-called mercy killing in 2005.
He said nothing about the case while working for Dyfed-Powys Police and NHS trusts in Carmarthenshire and Suffolk.
The General Medical Council (GMC) is considering whether to strike him off for misconduct and dishonesty.
Dr Hourmann, who qualified as a doctor in Argentina and now lives in Spain, was not present for a hearing of the GMC's Fitness to Practise panel and is not represented by lawyers.
He is accused of misconduct and dishonesty because he hid the investigation and his conviction from the GMC and employers. He also broke medical rules by failing to inform the GMC.
Dr Hourmann was suspended by Dyfed-Powys Police from his post as a forensic medical examiner in October 2010 when his conviction came to light.
Alan Taylor, counsel for the GMC, told the panel: "This case involves two aspects - firstly Dr Hourmann's convictions and secondly his misconduct in not revealing anything about the original incident or about being investigated, charged or ultimately convicted in relation to it.
"Nothing was revealed or disclosed to the regulatory body or employers for whom he started work in the UK."
The GMC heard that on 28 March 2005, Dr Hourmann was working at the Mora D'Ebre district hospital in Tarragona, Spain, when an 82-year-old "extremely ill" cancer patient, referred to only as CR, was admitted.
"When patient CR became unconscious he injected her with 60mg of potassium chloride, a lethal dose and it brought about the patient's death," Mr Taylor said.
Reading from Spanish court papers, he said that the patient was "begging for her suffering to be brought to an end" and that Dr Hourmann may have thought, incorrectly, "she was begging him to end her life".
In 2009 Dr Hourmann was convicted under Spanish law of involuntary manslaughter and attempting to co-operate in the suicide of a seriously ill person whose death was imminent.
He was sentenced to one year in jail, which was suspended, and a further sentence of four months, 15 days in jail, which he avoided by paying a fine of 1,620 euro (£1,359).
The panel was told that less than a year after the patient's death, he lied to get a hospital job with the West Suffolk NHS Trust in February 2006 by declaring he was not under investigation.
Dr Hourmann repeated the denial in June 2007 when applying for a job with Carmarthenshire NHS Trust in the A&E department at Prince Philip Hospital, Llanelli.
When applying to work as a forensic medical examiner with Dyfed-Powys Police in April 2008, he left blank the section of the form referring to impending prosecutions or investigations.
The doctor worked for the force from May 2008 to October 2010 when he was suspended following revelations about his past history.
The hearing in Manchester continues.