Firstsource to create 'several hundred jobs' in Cardiff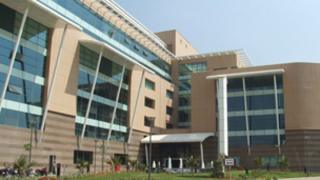 Several hundred new jobs are being created by an Indian company in Cardiff, the Welsh government has announced.
Firstsource specialises in professional services and works across banking and financial services, telecommunications and media and the healthcare industry.
The company said it had got plans but they were "not in a position to make them public at the moment."
According to the firm's website, it has more than 30,000 employees.
The first minister Carwyn Jones made the announcement during his monthly news conference.
He said the Welsh government had been assisting the Mumbai-based company "for some weeks" in finding a location.
They will bring the jobs to a new centre in Cardiff's financial district.
The first minister will lead a trade delegation from Wales to India the week after next.
Established in 2001, Firstsource has offices in the United States, the Philippines, Sri Lanka and the UK, as well as India.
Firstsource said it had leased a building in Cardiff where it intended to open a contact centre, but it was not in a position to discuss jobs.
A spokeswoman said: "The company has leased a building. We have got plans for Cardiff, but we're not in a position to make them public at the moment."