Red cross to stop Machynlleth day care social service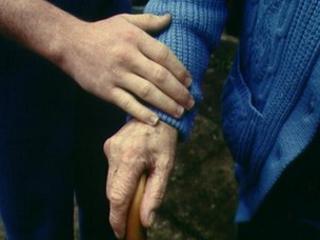 A day care service for vulnerable adults is due to close this summer with nine job losses after a charity said it will no longer do the work.
The British Red Cross had been due to end at the Care Centre in Forge Road, Machynlleth, at the end of March.
But Powys council has asked the charity to continue for three months more while it looks for another service provider.
The British Red Cross said it was focused on a "smooth transition" for service users and its staff.
The charity is the largest of the charity and voluntary organisations based at the former cottage hospital site in the town.
A spokesman for the centre said the service paid for by the county's social services department allowed around six vulnerable people a day to be brought to the building from the town or surrounding villages for a meal, a bath and the chance to socialise.
He said: "Unless somebody else takes over the from the Red Cross, I don't know what they are going to do.
"There was not even a hint that this was going to happen.
The building is not going to close. We're just hoping that somebody else will take over from the Red Cross."
British Red Cross senior services manager Nigel Davies said the charity had agreed with Powys council to continue until the end of June.
He said: "This is a strategic decision taken by the Red Cross in order for us to be able to focus our attention on helping more people in their own homes.
"We currently offer this service elsewhere in Powys and across Wales, providing short-term crisis care and support after an accident or illness, giving beneficiaries the confidence to continue their daily lives and reducing the time they need to spend in hospital.
"Because the day care service in Machynlleth is not funded by the Red Cross it can move to another provider.
"Our top priority in this matter is the continuation of care and support for the people that currently use this service.
'Redundancy'
"We have been working closely with Powys County Council for six months to find appropriate solutions that meet service users' needs and to ensure the most appropriate levels of future care are provided.
"Unfortunately the closure of the services has resulted in the redundancy of nine Red Cross staff.
"We are focusing on ensuring that personnel at the centre are fully supported during this period of change."
Powys council adult services manager Sue O'Grady said: "The council will be putting interim arrangements in place to provide the same services for users while developing proposals for longer term management.
"Our priority is to maintain the current level of services for users albeit with a different provider on an interim basis and in the longer term."