Snow may follow record warm weather in parts of Wales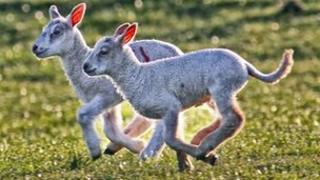 Forecasters say snow may fall in some parts of Wales as temperatures drop following last week's record highs.
It is more likely in north Wales, but meteorologists say the snow is unlikely to stick or cause any problems.
Frost returned to some areas on Monday morning and the colder weather is expected to continue with snow and sleet expected from Tuesday.
Last week, grass fires were a big problem across Wales as temperatures reached 21.7C (71F).
However, a band of rain travelling south from Tuesday could turn to sleet or snow.
BBC Wales meteorologist Derek Brockway pointed out that snow was more common at Easter than at Christmas.
He said not everywhere would have snow this week, and amounts will vary, with most falling on hills and mountains facing north and east.
There could be "a dusting or more" in such areas as the hills of Powys, the Berwyn Mountains, Brecon Beacons and Black Mountains.
But the cold snap is predicted to be short-lived and temperatures will rise again on Thursday and Friday.
Easter weekend will probably be mixed, with a little rain and sunshine, and temperatures around average.