Falklands: Welsh soldiers David Jones, Dilwyn Rogers and Steve Dawkins return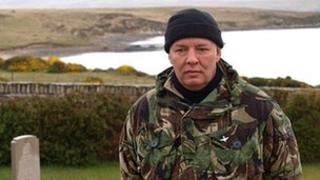 Three soldiers have returned to the sites of battlefields they fought over in the Falklands 30 years ago.
On the anniversary of the start of the conflict, a BBC Wales programme followed their attempts to come to terms with the losses they suffered.
David Jones, Dilwyn Rogers and Steve Dawkins remember losing friends and having to bag comrades' bodies, as well as speaking in Welsh to an Argentine.
The Falklands: Healing the Wounds is on BBC One Wales on Tuesday (22:35 BST).
Mr Jones, a paratrooper during the conflict and originally from Llanfairfechan, in Conwy county, lost his best friend from childhood when heavy enemy bombardment hit the troop ship Sir Galahad.
He said during the journey out to the Falklands: "There were five of us from Llanfair [Llanfairfechan] and of the five, one was killed and one lost his legs."
He also remembers how he tried to find Welsh-speaking Argentines among the many prisoners of war who were held under his guard in sheep sheds on the islands.
"Coming from Wales, and knowing about the 'Wladfa' [the Welsh settlement in Argentina] I thought maybe some of them would be able to speak Welsh.
"So I would say things and shout in Welsh... and one person answered me and I had a conversation with him, allowing me to speak my mother tongue in a way, and that was very strange - like feeling on the same level.
"Two lads, alike but on different sides."
Mr Rogers, who was born in Ruthin, Denbighshire, has vivid memories of seeing the faces of his dead comrades as he put them in body bags during the Battle of Mount Longdon.
Before the journey he said: "I've no nerves and no real apprehension, but you never know what the trip might throw up. I'll just take it as it comes."
For Steve Dawkins, a medic with the Welsh Guards who lost two close friends when the Sir Galahad was hit, the trip represented a chance to make peace with the past.
"I'm getting an opportunity to say goodbye to my friends once and for all and make an apology to them and put it to bed," he said.
"But there's a thing in the back of my mind that it might not be enough."