House prices and sales expected to 'fall' in next quarter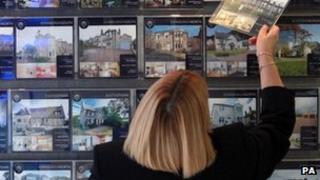 House prices and sales in Wales are expected to fall over the coming quarter, according to a new survey.
The Royal Institute of Chartered Surveyors (Rics) says demand in the market held firm in March as some first-time buyers looked to beat the stamp-duty holiday.
The exemption on paying 1% tax on properties worth between £125,000 and £250,000 has now ended.
The flow of new properties coming onto the Welsh market remained stable.
Rics said new buyer inquires in Wales continued to rise with 4% more surveyors reporting increases rather than decreases in demand.
But it said prices continued to edge downwards across Wales, albeit at a slower pace than in recent months - a trend expected to continue.
It said 19% more surveyors reported falls rather than rises in prices, representing the least negative reading since January 2011, but sales are expected to decrease over the next three months.