Wales and Heathrow direct rail link vital, says Hain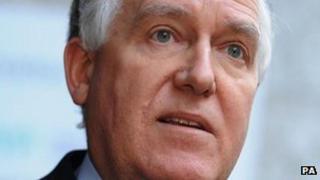 Shadow Welsh Secretary Peter Hain is calling for a direct rail link between Wales and Heathrow Airport, which he says is vital.
The Neath MP understands that UK Transport Secretary Justine Greening is looking at proposals for a link between Reading and Heathrow's Terminal 5 (T5).
But Mr Hain wants a "hub" created at the airport, providing a direct link from Wales and the west of England.
The UK government said it was involved in a huge rail investment programme.
In a letter to Ms Greening, Mr Hain said: "I believe that you are considering a specific proposal for western rail access to Heathrow T5 from Reading, promoted by Slough Borough Council and others, and that this may be considered for inclusion in the HLOS (high level output statement).
"However, I am not aware of any democratic scrutiny of this proposal, nor whether it has been properly assessed against other options, for example the Heathrow Hub.
"The issue of access to Heathrow from the west is vital to Wales and I would therefore be grateful for your confirmation that no final decisions will be taken without both proper assessment and dialogue with key stakeholders, taking into account, for example, journey times, interchange penalty, service pattern, modal shift, cost and funding."
In his letter to Ms Greening, Mr Hain attached a copy of his response to the Great Western franchise consultation, which is due to start in April 2013 and will be based on services currently operated by First Great Western (FGW).
FGW's routes include links between south Wales and London.
In his response, Mr Hain said improving access to Heathrow from the west and south-west of England, and south Wales, was "critical to improving regional competitiveness, and encouraging inward investment to some of the UK's most disadvantage areas".
Transport Minister Theresa Villiers said the UK government was involved in a huge rail investment programme.
'Victorian era'
"A new rail link from the Great Western Main Line GWML to Heathrow Airport could potentially provide better services for passengers travelling to the airport from Reading, the West of England and Wales, which is why Network Rail is conducting a feasibility study with BAA (British Airport Authority) to develop proposals.
"The government is committed to improving our railways, which is why we are undertaking the biggest investment programme since the Victorian era.
"However, there are many projects competing for limited government funding so a careful assessment of affordability and competing priorities needs to be made before a decision is made on western rail access to Heathrow."