Presenter Alex Jones sees daffodil named after her at RHS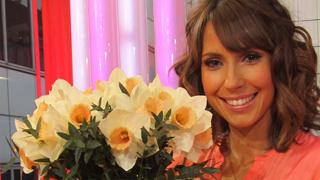 TV presenter Alex Jones has a special reason for joining gardeners at the Royal Horticultural Society (RHS) Show in Cardiff this weekend.
The BBC One Show star, from Ammanford, Carmarthenshire, will see a flower named after her on display.
The Alex Jones Daffodil was presented to the 35-year-old live on the programme she hosts by champion grower Ron Scamp.
He said the bloom was "a lovely, delicate flower, like its namesake".
Ms Jones follows in the footsteps of Neath-born singer Katherine Jenkins by having a daffodil named after her.
The unusual flower has white and pink petals and has been grown by Mr Scamp.
Around 25,000 people are expected to attend the show, which is held in Bute Park, next to Cardiff Castle.
Mr Scamp said: "The Alex Jones daffodil is a lovely, delicate flower, like its namesake.
"I think it will prove popular amongst visitors to the Cardiff show and fans of Alex, and proceeds from sales will go towards BBC charities."