BBC Wales' Rhod Gilbert show among winners at Celtic Media Festival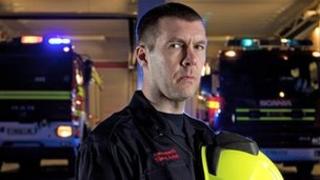 BBC Cymru Wales has scooped five awards at this year's Celtic Media Festival in Londonderry, Northern Ireland.
Rhod Gilbert's Work Experience, in which the comedian tries out jobs, won the factual entertainment prize.
The current affairs award went to Week In Week Out: Cash For Qualifications, while Lions '71, about the New Zealand rugby tour, took the sport trophy.
A documentary following actor Michael Sheen's Passion In Port Talbot play landed the arts prize.
In radio, the BBC Radio Wales feature The Mousetrap And Me was voted best documentary.
In the programme, presenter Louise Elliott met Terry O'Neill, whose brother was killed by their foster parents.
The subsequent trial made front page headlines and inspired Agatha Christie to pen her long-running play.
Meanwhile, BBC Radio Wales and BBC Radio Cymru are both nominated in the radio station of the year category which will be announced later.
Week In Week Out's Cash For Qualifications exposed a scam in which overseas students were helped to cheat their way to UK university degrees and visas.
A new series of Rhod Gilbert's Work Experience starts on BBC One Wales on 7 May.