Women secondary school head teachers double in Wales in eight years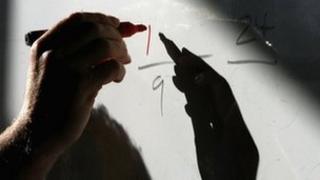 The proportion of female secondary school head teachers in Wales has doubled in eight years to nearly one-third, according to a teaching body.
General Teaching Council for Wales statistics show 31.7% of heads are female, compared to 16.5% in 2004.
This year has seen the biggest annual increase, with the number rising to 70 in 222 secondary schools.
The Association of Secondary and College Leaders said middle management level changes had an impact higher up.
Despite the increase, women are still proportionately under-represented at the highest level. Across primary and secondary schools, 75% of the workforce is female, against 56.5% of heads.
ASCL Cymru said a more equitable gender balance amongst heads should be expected after major changes in gender balance in middle management over the last decade.
Gareth Jones, ASCL Cymru's secretary, said: "In the early 1990s virtually all middle leadership positions were occupied by men but that has changed significantly and any barriers which existed at that stage are gone."
Dr Philip Dixon, director of the ATL education union in Wales, believed a number of factors including family friendly policies, greater awareness of the need for gender balance and the crumbling of "any sort of old-boy network" were involved.
However he added: "It is still not acceptable that, while around two thirds of the workforce in secondary schools are women, just under one third of heads are female.
"The Welsh government needs to investigate what barriers still remain to our schools tapping into the full pool of talent available."
Helen O'Sullivan has been head teacher at Tonypandy Community College for four years and believes a combination of women being more aspirational and a change in the head teacher's role had made a difference.
'Higher profile'
"They realise that the role of head is much more diverse than it used to be," she said. "Heads need to be more hands-on, have a higher profile and have stronger people skills.
"In my experience female candidates for headship are presenting themselves with stronger skill sets than in the past.
"They will have done a number of different roles within the school and have undertaken extensive professional development.
"Regardless of gender, the role of head teacher is very demanding so both male and female heads need the full support of their families in order to do the job effectively," she added.
Eithne Hughes, head of Bryn Elian School in Colwyn Bay, Conwy, agreed that women were more confident about seeking the top job.
"I think women need to be much more confident to breakdown that glass ceiling, they need to ignore it's there at all," she said.
"Just focus on the skills you have to bring to the table and to have confidence in those skills."
Ms Hughes started at Bryn Elian School four years ago, on the same day her twins enrolled.
"I'm a head teacher, I'm a mother, I'm a teacher and all at the school," she said.
Ms Hughes said it was important that schools achieved a gender balance among head teachers so that education benefits from what both men and women bring to leadership.
"There's a balance of skills that females can bring. There's a toughness that we bring and a single-mindedness in our approach to benefit children.
"Women need to get out there and say I'm as good as anyone else."
At primary level, the number of female heads has also risen for the eighth year, to 60.3%.