Welsh Premier League: FAW says quality of pitches and grounds harms game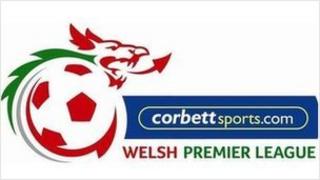 The quality of pitches and grounds is stopping people playing football, members of the Welsh assembly have been told.
Football chiefs want more investment from the Welsh government, saying Wales is "sorely lacking in infrastructure".
The call came as the Communities and Culture Committee began an inquiry into the Welsh Premier League.
It heard that a salary cap for league players would be investigated as a way to make savings.
AMs were told that playing standards have improved since the Welsh Premier League was established in 1992.
The Football Association of Wales (FAW) said all clubs in the league have academies and there are more professionally qualified coaches.
'Let down'
FAW chief executive Jonathan Ford said: "The final area of the jigsaw where we are let down a little bit is with regards to the actual facilities, the infrastructure that we have available to use.
"You are all aware this is one of my major objectives, to try and see what we can do to improve the actual playing surfaces and the infrastructure we have around it.
"Because quite clearly we are sorely lacking in infrastructure availability in this country and that is probably one of the major causes that's prohibiting people actually playing football in the first place."
The FAW says it has spent £600,000 a year on grounds through a sister company, but has failed to persuade local or national government about the importance of match funding.
Almost all grounds in the league are owned or rented from local councils.
Mr Ford said £36m had been invested in football infrastructure in Ireland and £30m in England, but there was "very little" from the Welsh government going into sporting infrastructure.
An FAW initiative called Grow Your Club will investigate the introduction of a salary cap in the Welsh Premier League "to encourage best financial practice".
Mr Ford and Welsh Premier League secretary John Deakin, who was also giving evidence to AMs, said they were in favour of switching the football season to the summer.
However clubs and the media - particularly S4C, which broadcasts matches - had never accepted the idea, they said.