Insurer Admiral's turnover up 9% in first quarter of 2012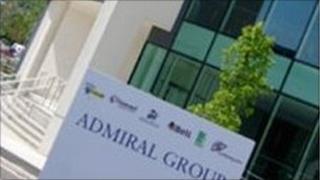 Cardiff-based insurance company Admiral has announced its turnover has risen by 9% in the first three months of the year.
It is expected to report a pre-tax profit of £322m for 2012, according to estimates.
The company employs 1,800 people in Cardiff and 1,400 in Swansea.
Earlier this year the company announced plans to relocate its three Cardiff offices at a new site near the St David's shopping centre.
In a statement the company chief executive, Henry Engelhardt, said the business "continues to grow".
The company, which says it insures one in ten cars on Britain's roads, said there had been "no change in claims trends" compared with the final quarter of 2011.
At the time payouts to customers fell after a sudden surge over the previous three months, which the company put down to a handful of big one-off payments to cover long-term care of injured drivers.
"Our business continues to grow and prosper and our expectations for the full year remain positive and unchanged," said Mr Engelhardt.
Admiral, which trades under the Admiral, Bell and Elephant brands, also owns the price comparison website Confused.com.