Ched Evans rape case: Three Twitter arrests by North Wales Police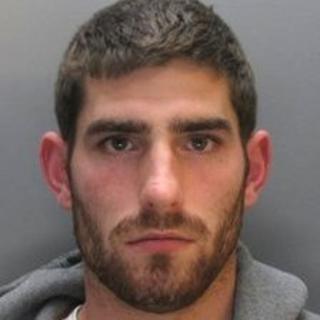 Three men have been arrested by police investigating the alleged naming of a rape victim on the Twitter website.
The comments were allegedly made after Sheffield United and Wales striker Ched Evans was jailed for raping a 19-year-old woman near Rhyl, Denbighshire.
North Wales Police said three people were detained in Sheffield with the help of South Yorkshire Police.
The law gives victims of rape and other serious sexual offences anonymity for life.
Two men have been arrested under Section 5 of the Sexual Offences Amendments Act and another male has been arrested on suspicion of malicious communication.
All three men are being detained by South Yorkshire Police at Sheffield police station where they are being interviewed by North Wales Police, said the force in a statement on its website .
Det Ch Insp Steve Williams said: "These arrests were made with the assistance of South Yorkshire Police and are part of a series of planned arrests we will be making during this on going investigation."
Earlier this week Ched Evans' lawyers confirmed he is to appeal against his conviction.
The 23-year-old was jailed for five years on Friday at Caernarfon Crown Court.
During the trial Evans admitted having sex with the victim at a Premier Inn last May but said it was consensual.
The woman, who is now 20, said she had no memory of the incident and the prosecution successfully argued she was too drunk to consent to intercourse.
Evans was convicted by a jury but his co-defendant, Port Vale defender Clayton McDonald, 23, who also admitted having sex with the victim, was found not guilty.