Diamond Jubilee: Queen meets Wales' Grand Slam-winning rugby team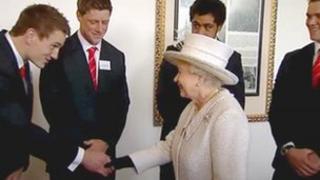 The Queen has met Wales' Grand Slam-winning rugby team as she continues her two-day tour of Wales to mark her Diamond Jubilee.
She and the Duke of Edinburgh arrived in Cardiff on the royal train and drove to Llandaff Cathedral for a service celebrating her 60-year reign.
They then travelled to Margam Park, where they met members of the team who won a third Grand Slam in eight years.
Centre Jonathan Davies said the Queen told him rugby looked rough on the TV.
"I reassured her it wasn't too bad," he said.
"It was a huge honour to meet her."
His team-mate, flanker Dan Lydiate, said he was nervous meeting the Queen, describing her as "really softly spoken".
The team have already attended a victory reception in Cardiff, hosted by the Welsh assembly, Welsh government and Cardiff council after clinching their Six Nations triumph in March.
But Lydiate said to be recognised on a royal visit was important.
"We were so happy to win the Grand Slam and this is the icing on the cake, a once in a lifetime opportunity. It's brilliant," he added.
Members of the team were introduced to the royal party during a reception for 140 people at the Orangery at Margam Park.
They were greeted by young pupils from Ysgol Gynradd Gymraeg Rhosafan in Port Talbot, who sang for the Queen.
One pupil, Molly, said: "It was an honour to see her arriving, it was very exciting and it was just a once in a lifetime opportunity to sing to the Queen.
"I was nervous because you don't usually sing to the Queen and you don't usually see the Queen walking to you, do you?"
Another pupil, Hannah, said the children had been "rehearsing lots" and staying after school every Monday to prepare for the visit.
"It's very exciting that we have actually sung to the Queen and it's an honour to do it," she added.
Following the reception a lunch was held with local produce served including Welsh lamb, leeks and Brecon back bacon, while Welsh cakes were served with tea and coffee.
The party then flew by helicopter to Merthyr Tydfil - cheered on their way by the crowds at Margam Park - for a visit to Cyfarthfa High School and Cyfarthfa Castle museum and art gallery.
At the museum the Queen saw the first steam whistle, the first voting ballot box and dresses by designers Laura Ashley and Julien McDonald.
The royal party viewed displays by the local mountain rescue team, Merthyr scouts and the Forestry Commission.
They also met members of the Young Dragons, which is a partnership led by the Prince of Wales that aims to increase opportunities for young people to engage in activities that benefit local communities.
Earlier, more than 600 people attended the service of thanksgiving at Llandaff Cathedral, where the Archbishop of Wales Dr Barry Morgan praised the Queen's commitment to public life.
A crowd of hundreds, including schoolchildren waving flags, cheered as she arrived in Llandaff.
The engagements are part of the Queen's UK-wide tour, which began in March.
On Friday the Queen will visit Aberfan, Ebbw Vale and Glanusk Park, Crickhowell.