Swansea strip club: council decision 'under review'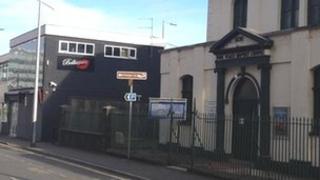 A council said the application for a licence for a strip club in York Street, Swansea was "under review pending a final decision."
The council's licensing committee met to discuss the issue on Wednesday.
More than 1,000 opponents had signed a petition against the development, which would involve pole dancing and stripping at the club.
A council spokesperson said: "The committee met and considered the licensing application."
Earlier, the spokesperson said: "The council is following its normal procedures in determining an application and these procedures are on-going.
"A determination will be issued in due course."
The minister of the York Place Baptist Church - which is next door to the proposed club - the Reverend Haydn Dennis, called the situation a "disgrace".
"We are all on tenterhooks," he said.
"We just don't know. It is a very unsatisfactory situation," he said.
The report discussed by councillors on Wednesday said the Swansea-based applicant "proposes to use the premises for relevant entertainment which may include: lap dancing, pole dancing, table dancing, strip shows, peep shows..."
"The applicant intends to use the premises between 22:00 and 04:00 hrs Monday to Sunday".
The solicitor for the applicant said the company intended to restrict the club to pole dancing and stripping only.