Sunday Times Rich List: Sir Terry Matthews regains Wales top spot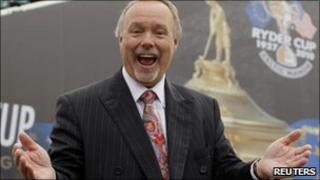 Entrepreneur Sir Terry Matthews is once again Wales' richest person, according to an annual survey.
The owner of Celtic Manor Resort in Newport is worth £1.09bn according to The Sunday Times Rich List, published on Sunday.
The Newbridge-born telecoms tycoon last topped the Welsh list in 2009.
Other notable Welsh names include actress Catherine Zeta-Jones at number 10, and singer and The Voice judge Sir Tom Jones at 12.
Sir Terry, 68, who regained his billionaire status last year, has seen his fortune grow by £47m since 2011, according to the survey.
And his profile is still high following a successful Ryder Cup golf tournament at Celtic Manor Resort in 2010.
Second in the Welsh list is Cardiff-born Michael Moritz, who is worth an estimated £1.08bn following the flotation of business networking site LinkedIn.
Moritz is a partner at Sequoia Capital which invested $4.7m in LinkedIn in 2003 - a stake now worth $1.5bn.
Policeman's son Douglas Perkins, who founded Specsavers with his wife Dame Mary, has dropped to third after profits at the opticians chain fell in 2010-11.
Perkins, who was born and raised in Carmarthenshire, topped the list last year.
The 24 millionaires from Wales who feature in this year's overall rich list are said to be worth a total of more than £7bn.
The Sunday Times Rich List profiles the 1,000 richest people and families in the UK and is based on identifiable wealth such as land, property and shares in publicly quoted companies.