Owain Roberts: Unconfirmed sighting of missing musician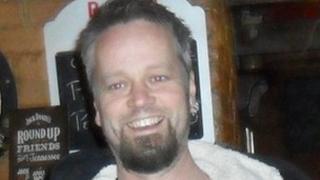 Police have renewed their appeal for information about a missing musician after an unconfirmed sighting of him at a post office.
Owain Roberts, 36, was last seen at 11:00 BST on 10 March not far from his home town of Cardigan, Ceredigion.
Dyfed-Powys Police have now received a report about an unconfirmed sighting of Mr Roberts at nearby Plwmp post office on the day of his disappearance.
The man was offered a lift by two women and a man from the south of England.
He was complaining about not reaching the area's coastal path in time to meet someone.
Mr Roberts was due to meet his father near a church in the hamlet of Mwnt on 10 March, but failed to show up.
"A report has been received of a male fitting Owain's description being in Plwmp Post Office/shop at lunchtime on the day he went missing," said Insp Louise Bradshaw, who is leading the search.
"The man was talking about not getting to the coastal path in time to meet someone.
"In the shop were three other customers, who appeared to be together, and they offered him a lift. These were one male and two females, described as having southern England possibly Oxfordshire accents."
Insp Bradshaw said the area was popular with tourists and the three people could have been on holiday at the time.
She added: "I would appeal to anyone who may have been staying in the Ceredigion/west Wales area at the time and who offered a man a lift to the coastal path to contact police immediately."
A guitarist with local rock act The Reasoning, Mr Roberts worked at Theatr Mwldan in Cardigan.
He is described as 5ft 10in tall, of medium build, with blue-grey eyes.
His hair is short in length and is grey on the sides, while his front-left tooth has a chip in it.
Dyfed-Powys Police have asked anyone with information about Mr Roberts' whereabouts to call them on 01267 222020.