Vote 2012: By-election in Bryncrug to decide Gwynedd control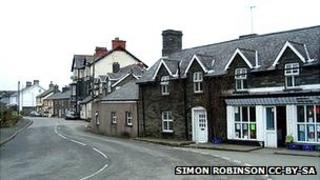 A ward where no candidate stood for election will decide which political group runs Gwynedd council.
Plaid Cymru won exactly half the 74 contested seats, meaning it failed to retain overall control with the one seat still to be fought.
A by-election will be held in Bryncrug after no candidates were put forward, and the result will help determine the political make-up of the ruling group.
Meanwhile, all results are in for Conwy where no one party has control.
There, the situation remains split with Independent 19, Conservative 13, Plaid Cymru 12, Labour 10 - up three on the last election - and Liberal Democrats five.
Other candidates took four new seats with Conservatives losing five and Plaid Cymru losing two.
In Anglesey the elections have been postponed for a year after the Welsh government appointed commissioners to run the council.
With all Gwynedd seats declared, Plaid lost its majority, taking 37 seats of 74 and Independents on 18. At the 2008 election Plaid won 35 of 75 seats.
The new make-up of the council is Plaid 37, Independents 18, Llais 13, Labour four, Liberal Democrats, two, and with the one vacant seat in Bryncrug to be contested at a later date
Before the Gwynedd result was declared, Plaid Cymru leader Leanne Wood said the party must rebuild after what she called "a difficult night" at the local elections.
Labour's revival cost Plaid its leadership of Caerphilly in the south Wales valleys.
In Conwy, a total of 37.1% of voters went to the polls from 51.9% in Llansanffraid (Glan Conwy), 51.3% in Caerhun and 25% in Llysfaen.
There was no party in overall control at Conwy in the last elections with Conservatives on 18 seats, Plaid 14; Other 15, Labour seven; and Liberal Democrats five.
The results so far show Conservative Gail Hall lost the Capelulo seat to Anne McCaffrey, Independent, who stood on a platform opposing the Local Development Plan.
Former leader Goronwy Edwards, an Independent, lost his Caerhun seat to the Conservative candidate.
All the latest election results are available at bbc.co.uk/vote2012