London 2012: Castle celebrations in Wales for Olympics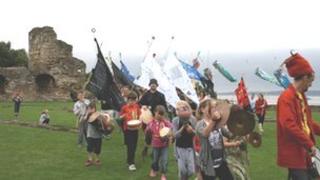 Welsh history is to be celebrated at a series of events at castles, palaces and industrial sites in the build-up to the Olympics.
Stories and legends of Wales will be told during walks and performances at eight sites, including Caernarfon, Flint and Caerphilly castles.
It is hoped both local people and Olympic visitors from around the world will be at Cauldrons & Furnaces events.
They will run between 16 June and 17 July.
About 17,000 young people and artists will take part in the performances as part of the Cultural Olympiad at sites run by Cadw, the Welsh government's historic environment service.
Events will be held at castles across Wales, along with the Blaenavon Steelworks in Torfaen. The other castles involved are Denbigh, Laugharne, and Harlech.
A 22-day pilgrimage walk will also be undertaken by artists and storytellers from Llanthony Priory in Monmouthshire to St Davids in Pembrokeshire, with events, performances and workshops held along the route.
Heritage Minister Huw Lewis said the events were about "telling extraordinary stories in extraordinary places".
"Wales has a history to be proud of and it's inspiring to see our young people telling stories of their history - not only to welcome the Olympics to our nation but also to excite their own communities about what their local heritage means to them today," he said.
Clare Williams, the creative events programmer of Cauldrons & Furnaces, said she had been delighted by the enthusiasm of the young people taking part.
"The series of Cauldron & Furnaces events across Wales will be an opportunity for people to visit their local heritage sites and see the amazing talent of the young people in their local community, as well as for visitors to see Cadw sites really brought to life," she added.
Isabelle Hughes, 15, from Ysgol Dewi Sant in St Davids, Pembrokeshire, said: "I've learnt a lot working with the local artist involved, and it's great to be part of something bigger and celebrate the Olympics here in west Wales."
The project is part of Power of the Flame, a programme designed to use the games as a catalyst to inspire young people to achieve their best in their chosen field.
It has been funded by Legacy Trust UK, an independent charity which aims to create a lasting impact from the Olympics and Paralympics by funding local talent.
The events have also been supported by the Arts Council of Wales.