Diamond Jubilee: Britain's Got Talent harpist Hero Melia in choir for Queen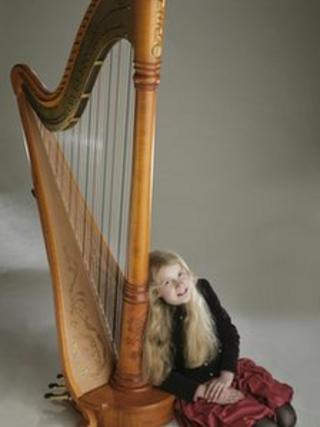 A young harpist who failed to get past Simon Cowell on Britain's Got Talent will perform for the Queen in a Diamond Jubilee choir.
Hero Melia, 13, was turned down in the ITV show's audition round and missed out on the winner's chance to appear at the Royal Variety Performance.
Hero, from Capel Curig, Conwy, has been picked in the Diamond Choir to perform at a service for the Queen on 5 June.
Two other youngsters from Wales are also in the choir.
Hundreds attended auditions in 18 cathedrals across the UK, competing for the chance to join the choir which will sing for the Queen at St Paul's Cathedral.
In total, 40 children have been selected, with representation from every part of the UK.
Hero, who was a runner-up on Sky 1's talent show Must Be the Music in 2010, was "ecstatic" when she found out she had been chosen, said her mother Alice Douglas.
"It's quite funny because quite recently she was on Britain's Got Talent but when she performed in front of the judges, Simon Cowell yawned and said the harp was old fashioned," said Ms Douglas.
"So it's nice that, despite that, she'll still get to perform for the Queen.
"It will be wonderful for her as it's part of history and will be something she won't forget."
Hero turned down the offer of a recording contract following her appearance on Must Be the Music and instead is concentrating on her education at the Chetham's School of Music in Manchester, where she boards during the week.
But she regularly performs at weddings and concerts, and he her mother said she was not fazed at the audition for the Diamond Choir.
"She performed at Wembley Arena in front of 13,000 people on Must Be the Music but she said nothing is as scary as performing in the eisteddfod," said Ms Douglas.
"She said eisteddfods are quite small and intense and you are up against fantastic musicians. So after that I think she doesn't get nervous."
Oliver Barton, 11, who is a member of Newport Cathedral's choir, will be joining Hero in the Diamond Choir.
"I was really surprised to get in as there was quite a lot of people at the audition and to know I was the one chosen was a really nice feeling," he said.
"I'm really proud, not just for me, but also for my dad, who takes the time to practise with me."
Oliver's father Christopher Barton, who is director of music at Newport Cathedral, said his son loved singing and was also a very good cellist and pianist.
"Oliver joined the choir in the cathedral as soon as he could - he was six when he joined the training choir.
"I'm very proud of him as he takes his music very seriously and it does take a lot of time and commitment.
"It's nice that it has paid off and he'll get the chance to be involved in an event like this - it's an honour and it's history."
The Diamond Choir will sing an anthem commissioned for the occasion called The Call of Wisdom, written by British composer Will Todd.
The children will come together two days before the service to work on the song.
The Reverend Canon Michael Hampel, precentor of St Paul's, said: "They will have to work very hard in that time to be ready to sing for the Queen, hundreds of dignitaries and an audience of millions across the country and overseas."