Dyfed-Powys Police plan stations shake-up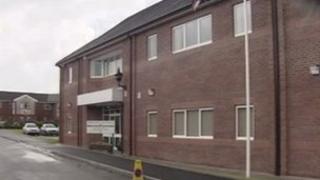 The front counters at seven small police stations in mid and south west Wales could shut to the public under plans by Dyfed-Powys Police.
Milford Haven, Fishguard, Tenby, Lampeter, Ystradgynlais, Ammanford and Welshpool are stations under review.
The force has to cut costs by £13m by 2015, but stressed that its proposal would not lead to a drop in service.
Staff affected by the changes would have the chance to redeploy elsewhere, but redundancies are not ruled out.
Dyfed-Powys Police said it would always try to avoid redundancies where possible.
In October last year, Chief Constable Ian Arundale said protecting frontline services was probably the greatest challenge policing had faced to date.
He was giving evidence to a Welsh assembly committee about how budget cuts might affect public safety.
Budget constraints are forcing police forces around the UK to change the way they provide services.
Last year, South Wales Police said "many" of their smaller police stations would close to the public as they looked to plug a £47m funding gap over the next four years.
Dyfed-Powys Police said fewer people were using police stations and they believed it was a growing trend.
As a result, the force is looking to change the way it delivers counter services by using mobile stations and holding more police surgeries.
Despite this, the stations under review would not close completely, the force said.
Chief Constable Arundale said: "The review highlights the changing way the public access our services and we need to acknowledge and adapt to this in order to provide the best possible service for our residents.
"The force is always looking at ways to improve its service to the public and these proposed changes will help us achieve that while also reducing costs to meet the coalition government's cost reduction target for the force of over £13m by 2015/16.
"During times of austerity we must focus on providing more convenient and efficient alternatives for people to contact us.
"In some cases this could mean changing facilities that are rarely being used and developing other ways for people to contact us. For instance, through mobile police stations, police surgeries and working with partner agencies."
'Large cuts'
A force spokesman said people could access police headquarters 24 hours a day via intercom from the seven stations if the plans were backed. He said a police presence would be maintained in the areas affected.
Meanwhile, more than 50 police community support officers, funded by the Welsh government, are joining the force by spring 2013 - more than 20 are already in post.
The force said it had started a consultation with staff and unions about the review.
Delyth Humfryes, chair of Dyfed-Powys Police Authority, said: "In the current economic climate the police service has to change the way it delivers services against a backdrop of large cuts in government funding.
"However, the authority and the force is committed to ensuring Dyfed-Powys Police deliver the best possible service to our communities with the resources we have."