Anti-social behaviour: Dyfed-Powys Police chief warns of cuts impact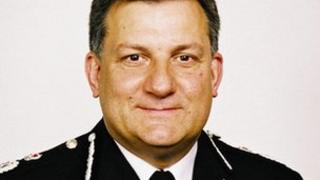 A retiring chief constable says police could miss crime such as anti-social behaviour due to UK government cuts.
Ian Arundale of Dyfed-Powys Police warns that much anti-social behaviour comes from people with health and social problems rather than criminals.
Figures for BBC Wales show Welsh forces received an average of 245 calls a day in 2011 about anti-social behaviour.
The Home Office said it was right that police contributed to reducing the budget deficit.
A spokesperson also took issue with the contention that anti-social behaviour was "low level" crime.
Mr Arundale warned of a growing "austerity crimewave" in some areas.
Statistics released under the Freedom of Information Act show that 89,702 non-emergency calls were received in 2011 by the four Welsh police forces.
It represents a fall of nearly 18% compared to 2010, but Mr Arundale said the figures did not reveal the true extent of the complexity of dealing with the problem.
Mr Arundale, who retires in June after 32 years, said there had been a shift in the underlying causes of anti-social behaviour, towards alcohol, mental health and other problems.
"Quite often we are dealing with people who are not criminal, but they might have underlying health issues which cause them sometimes to act in a way which causes distress to others," he said.
"And there's a whole range of agencies, health, social services that we've got to work in partnership with.
"In these days of austerity, it's quite often difficult to get all the right people together with resources to deal with some of these issues."
Rise in burglary
Mr Arundale warned on the plan to cut police budgets to all forces across Wales and England by 20%.
"Fortunately, in most of Wales we are still seeing decreases in crime but that's not the case up and down the country and we're normally behind in that way.
"But there is an austerity crimewave starting in certain parts of the country and, at the heart of it, people want to be safe when they go out onto the streets and they want to come back home and for their properties to be in one piece.
"My fear is that unless we get through this situation relatively quickly there could be unintended consequences.
"Now quite clearly my staff are going to focus firstly on the emergencies. The danger with that is the more we're required to cut, sometimes the work on the periphery won't be prioritised."
In response to Home Office trials to require police to deal with anti-social behaviour if five households in an area complain, Mr Arundale believed the approach was too simplistic.
"My view is that if the government truly wants to do something around anti-social behaviour and nuisance, then it needs to make it a core theme, objective and requirement for all agencies who've got a responsibility for social education and developing good citizens, and not just the police.
"I think it's a cop-out to expect that the police can and will resolve those issues and that will be putting an unrealistic burden upon the police and will raise public expectations which can't be delivered."
Martin Innes, professor of police science at Cardiff University, said: "Dealing with anti-social behaviour is very important. It is important to people's quality of life and how they feel about the neighbourhoods in which they live.
"But it also important because of the longer-term preventative effects that it has.
"One of the reasons we know dealing with anti-social behaviour is very important is because it stops the onset of criminal careers," he said.
"So if the police turn up and stop the problem there and nip it in the bud then actually you get the savings further down the line because you don't get the escalation of the problem you would otherwise have."
A Home Office spokesperson said: "By tackling binge drinking in our towns and cities we are helping forces around the country.
"This government doesn't consider anti-social behaviour to be low level - it affects many victims, making their lives a misery.
"As a service spending some £14bn a year it is right for the police to make their contribution to reducing the record budget deficit. By sweeping away central targets, bureaucracy and red tape we are helping police forces focus resources on the frontline and their one core mission: to cut crime."
However, the Welsh government said it was concerned about the impact UK government cuts on policing would have on the ability of Welsh police forces to tackle low level crime and anti-social behaviour.
A spokesman said ministers have pledged to fund an additional 500 community support officers (CSOs) across Wales.
"The Welsh government has a strong record of working with the Welsh police forces and we are particularly pleased with the strong partnership working that has enabled this commitment to be fulfilled as the CSOs hit the streets in communities across Wales," the spokesman added.