Morriston and Glan Clwyd hospitals undergo spot checks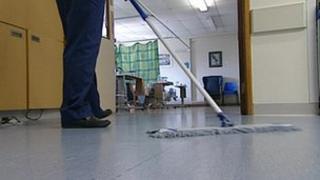 Cleanliness on wards at two Welsh hospitals have come under scrutiny in a series of spot checks.
Details of the findings into the visits at Morriston in Swansea and Glan Clwyd in Denbighshire were published on Thursday.
One of three wards at Morriston was found to be "sub-optimal", while inspectors gave Glan Clwyd an overall clean bill of health.
Spot checks were introduced in 2007 in a bid to improve infection control.
Glan Clwyd was also subjected to elderly care checks in a visit by the Health Inspectorate Wales (HIW) in December 2011.
Officials said the hospital at Bodelwyddan was in general "providing care in a sensitive manner" to elderly patients.
The HIW report also highlighted good practices at Glan Clwyd, including a 'caring champion of the month' initiative.
However, the HIW also noted that there were some issues with care planning for more complex clinical cases that it wanted the hospital to address.
On the cleanliness front, a second report found that Glan Clwyd had an overall good level of performance.
'Overfilled waste bags'
But it did also point out that in all four wards inspectors visited, linen was being stored in ward corridors, domestic rooms were "cluttered", and there was patchy knowledge among staff about hand hygiene issues.
However, the hospital faired better than Morriston Hospital in Swansea.
Inspectors visited three wards unannounced in October last year, the stroke rehabilitation ward, the clinical decision ward, and the trauma and orthopaedic ward.
The HIW report found that while the clinical and trauma wards were found to be good and acceptable, the HIW said the stroke rehab unit was found to have "sub-optimal cleanliness", with dust found at high and low levels.
All three wards also shared similar problems of cluttered domestic rooms with dirty equipment and overfilled clinical waste bags.
HIW chief executive Dr Peter Higson said the Abertawe Bro Morgannwg University Health Board was now being asked to respond on Morriston Hospital.
"The health board needs to ensure that the issues identified within the report are addressed and it is required to submit an action plan to Healthcare Inspectorate Wales within two weeks of this report being published," he said.