Holyhead to Cardiff train changes 'will save £500,000'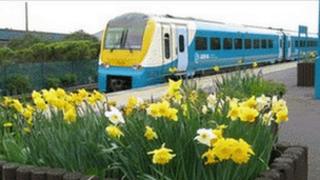 The number of daily express trains between Holyhead and Cardiff is being reduced by the Welsh government from two to one.
It said a new "enhanced" service, which will stop at Wrexham and Flint, will save more than £500,000 a year.
From September it will replace the Gerallt Gymro service, set up under the previous Labour-Plaid Cymru coalition government.
But Plaid said Labour had downgraded an important service.
Rail operator Arriva Trains Wales (ATW) said there would be "no reduction in service" and that it would be providing additional services to fill gaps in the schedule.
'Sustainable network'
Anthony Smith, from independent watchdog Passenger Focus Wales said savings should be reinvested.
"It's important that the change to the Holyhead to Cardiff train service does not lead to an overall reduction in services, particular for passengers using Ruabon, Chirk and Gobowen stations," he said.
"We urge the Welsh government to reinvest any money saved in improving other train services."
The Welsh government has previously said that improvements to east-west links would be a big part of its transport policy.
Transport Minister Carl Sargeant said: "Providing an effective and sustainable transport network that meets the needs of the people of Wales is a priority for me.
"I'm delighted to announce that this new express service, which will retain the best parts of the Gerallt Gymro service, cost the Welsh taxpayer less and will provide more time in Cardiff for business commuters and shoppers.
"Unlike the Gerallt Gymro this new service will also stop at Wrexham which is key if this express route is to properly serve the people of north Wales."
The government said the new service will retain the Gerallt Gymro's business class and buffet carriage.
The new express service will depart Holyhead at 05:32 BST and arrive at Cardiff Central at 09:58 BST. It will start the return journey at 18:18 BST.
ATW commercial director Mike Bagshaw said: "We are delighted to be working with the Welsh government to deliver this important part of their national transport plan."
Plaid transport spokesman Rhodri Glyn Thomas said: "After all the hard work of Plaid Cymru in government to improve rail connections across Wales, Labour is clearly determined to downgrade provision for some areas - especially north Wales."