1st The Queen's Dragoon Guards: Ray Scanlon in 'save regiment' call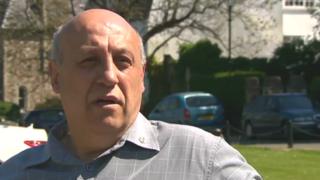 The father of a Welsh soldier killed in Afghanistan has called for his regiment to be saved from possible amalgamation.
L/Cpl Richard Scanlon, 31, of Rhymney, Caerphilly, from the 1st The Queen's Dragoon Guards (QDG), also known as the Welsh Cavalry, was killed on duty in Helmand Province last November.
His father Ray spoke as the regiment prepared for two homecoming parades.
Earlier this month, defence officials said no decision about the regiment's future had been made.
The UK government has plans to cut the number of British troops from 102,000 to 82,000 by 2020.
Earlier in May, it was revealed that a campaign had been launched to save the regiment after sources within it said they feared it would be merged with another regiment, and up to 500 soldiers sacked.
At the time ministers said no final decision had been taken.
The QDG has recently returned from a seven-month tour in Helmand Province.
L/Cpl Scanlon's father spoke as the regiment prepared a homecoming parade in Swansea.
"For him to lose his life in Afghanistan and then the regiment to come back and find... they may be... amalgamated... is an insult," Mr Scanlon said.
"My boy would turn in his grave if he knew this was happening.
"These boys have just come back from serving in Afghanistan, lost two of their comrades and yet are finding out they might have lost their regiment."
Mr Scanlon said he believed the QDG should be saved, along with the two other existing Welsh regiments.
"Why take away another Welsh regiment after amalgamating the only other one - the Royal Welsh Fusiliers - and leave us going down to two?" he said.
He called for Wales' politicians to take the fight to the UK government.
On Sunday, a service of remembrance will be held for L/Cpl Scanlon and Lt David Boyce, from Hertfordshire, at Llandaff Cathedral in Cardiff.
The pair were killed when their vehicle struck an improvised explosive device (IED) in the Nahr-e-Saraj area.
Meanwhile their regiment have paraded through Swansea on Wednesday, while Cardiff will also host a parade on Saturday.
Speaking beforehand Ioan Richard, Lord Mayor of Swansea, urged the people of Swansea to line the route to give the soldiers the welcome home they deserved.
"Several of the troops are from the local area and this is a marvellous opportunity for family, friends and the general public to show how much we appreciate them," said Mr Richards.