Families remember Chevron blast victims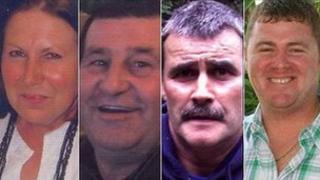 The families of four people killed in an explosion at a Pembrokeshire oil refinery have spoken of their sadness a year after the disaster.
Julie Jones, 54, of Pembroke, and Dennis Riley, 52, Robert Broome, 48, and Andrew Jenkins, 33, all of Milford Haven, died in June last year.
The explosion at the plant, which was owned by Chevron at the time, also seriously injured a fifth person.
The investigation into the explosion is continuing.
Two people employed by Chevron have been interviewed under caution in relation to offences of gross negligence manslaughter.
Meanwhile, the families of the four victims, who are still being supported by Dyfed-Powys Police family liaison officers, have paid tribute to their loved ones on the anniversary of their deaths.
Jack Archer said the past year, since losing his mother Julie Jones, has been very hard for all the family.
"My mother was from a large family and was a devoted mother, grandmother, sister and auntie, who was much loved and we all miss her very much and think of her all the time," he said.
"She was full of fun, enjoyed the outdoors and made the most of every day.
"Mum loved her work, was good at her job and was well respected by her colleagues. Her death has left a hole in our lives that we cannot fill."
Jane Summons said of her partner Andrew Jenkins: "June 2nd 2011 will always remain one of the darkest days that my family and I ever had to endure.
"To fully convey the impact of Andrew's death upon all of our lives is an emotionally overwhelming experience and understandably, somewhat impossible to explain.
"My life, along with the lives of our children Bobby and Jack was changed forever.
"Andrew was a genuine, fun loving and hardworking wonderful man, he was devoted to his family.
"Now we have to adapt to the future without a fiance and daddy, but Andrew's memory shines brightly in our thoughts and we will remember the wonderful times we shared with him, which we are so grateful for.
"He will never be forgotten."
Anita Broome said her husband Robert was a "kind considerate person who was thought well of in the community".
"He was an exceptionally brilliant husband, father, grandfather, brother and son-in-law. You couldn't have wanted for a better person," she said.
"Rob had a love for life, especially family, fishing and gardening. He always looked forward to family holidays.
"He is sadly missed each and every day. His loss has left a terrible hole in our hearts."
Kathy Riley and family members said of her husband, Denny: "Denny, gone are the days we used to share, but in our hearts, you're always there.
"We think about you every day and the hurt in our hearts will always stay.
"Dad, we miss your smile and infectious laugh. Grampy, we miss our playmate, but see you smile from your star every night. Our thoughts are constantly with Andrew who was seriously injured and his family."
Dyfed-Powys Police, along with the health and safety executive, are trying to establish the cause for the blast, which happened when maintenance work was being carried out on a 730 cubic metre storage tank, damaging an adjacent vessel.
The force said that so far inquiries have been made with in excess of 1,800 potential witnesses with over 200 providing statements to date.