National identity debate 'misconceptions' says author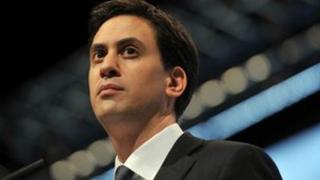 The national identity debate sparked by Labour leader Ed Miliband is riddled with misconceptions, argues an author on Welsh-English relationships.
Writer Mike Parker said London-based politicians too often portray the Celtic nations as enjoying "a better time" funded by English taxpayers.
Mr Miliband said in a speech that being Welsh or British was a "false choice".
But Syd Morgan, of a nationalist think tank, said identity was evolving towards Welsh more than British.
Mr Parker, who moved to Wales from England, agreed with the Labour leader on his point about the false choice, but said Mr Miliband and other politicians, including Prime Minister David Cameron, were still getting it wrong in the debate on national identity.
"We've seen a lot of manifestations of national identity really in the last couple of months, with the Olympics and the Jubilee," said Mr Parker, who wrote the book Neighbours From Hell: English Attitudes to the Welsh.
"We do like to tell the world who we are and what we are and all the rest of it. That's entirely natural.
"Ed Miliband said yesterday that if Scotland leaves the UK, they can't be British any more - well that's just rubbish.
"There's a lot of sour assumption [in England] that everybody in Wales and Scotland is getting a better time than they are and that they are subsidising it, and it's just palpable rubbish.
"We need to take the debate onto a high plane."
'Constantly changing'
Syd Morgan, of the Welsh Nationalism Foundation think tank quoted from a poll conducted by the organisation British Future, which suggested 21% of people in Wales considered themselves to be Welsh, and not British.
Mr Morgan said the poll suggested another 22% considered themselves to be more Welsh than British, while 15% were either more British than Welsh, or British but not Welsh.
He said there was a "multiplicity of identities", but figures were "constantly changing towards the kind of Welsh only, or Welsh more than British, identity".
Mr Miliband's speech in London focused on the challenge to the UK posed by the drive towards Scottish independence - a debate he said that should not be confined to Scotland.
The Labour leader said the strength of the UK came from the ability of its people to embrace multiple identities.
"Having to say: Scottish or British, Welsh or British, English or British. I don't accept any of that. It's always a false choice," he insisted.
His speech was dismissed by Plaid Cymru as "vacuous" and English Parliament campaigners said it was "disingenuous".