Twin Town and Pobol y Cwm actor Dorien Thomas dies, 55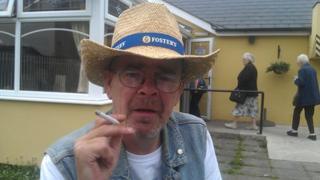 The actor Dorien Thomas, best known for his role as a corrupt policeman in the cult Welsh film Twin Town, has died.
The 55-year-old suffered a heart attack early on Friday. He had also been receiving throat cancer treatment.
The actor, from Pontypridd, was also familiar as Skull Jones in the BBC Wales comedy High Hopes, and parts in The Bill and Pobol Y Cwm.
Filmmaker Nic Thomas told BBC Wales he was a "tremendously intelligent" actor and "a great friend".
Thomas spent much of his career at the BBC but also did theatre work, directing, and radio.
He was also a fluent speaker of Klingon, the Star Trek language, and a passionate linguist.
He leaves his father Allan and mother Shirley.
Nic Thomas said he last saw his friend a week ago.
"He was a tremendously intelligent clever actor who was very intuitive.
"He was a great friend and he's going to be sorely missed by everyone who knew him," he said.
Ynyr Wiliams, the series producer of Pobol y Cwm, said: "It was with great sadness that we heard about Dorien's death.
"He was an actor and individual who enjoyed life and challenged boundaries at all times.
"During the 80s and 90s he was one of the most iconic faces in Welsh and English TV and was a valued member of the Pobol y Cwm cast.
"Our deepest sympathies, from both cast and crew, are with his close family."