Wales floods: Mines pollution fear investigated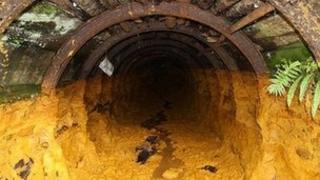 Scientists are to investigate whether severe flooding near Aberystwyth has contaminated land with harmful metals from abandoned mines.
River banks that have stored toxic metals such as lead, zinc and cadmium for generations, could have been eroded and the toxins washed down stream.
A team from Aberystwyth University will survey the catchments areas of the rivers Leri, Rheidol and Ystwyth.
There are fears the pollution could pose a risk to land, animals and crops.
Parts of Ceredigion were flooded by 5ft (1.5m) of water with record high river levels in parts on Saturday.
A major clean-up operation continues in Aberystwyth and the nearby villages of Talybont, Dol-y-Bont and Llandre and other areas affected by the flooding.
The Met Office has confirmed that more than a month's worth of rain fell in the Aberystwyth area on Friday.
Mark Macklin, a professor of physical geography at Aberystwyth University, said the force of the flood waters could have eroded river banks which stored harmful metals.
These metals could have flowed down stream and been deposited on the flood plains.
"Much of Ceredigion was affected by metal mining, but most of it finished before the start of World War I," he said.
"As a result of the mining, rivers and river banks in the area have been contaminated from the mines themselves right the way down to the sea.
"There are concerns that farmland has been contaminated and this could pose a risk to animals and crops," he added.
"We're starting a survey of the flood plains on Tuesday. We'll take fresh flood deposits, such as silt, and they will be chemically analysed. We will hopefully have some answers in a month or so."
The Environment Agency said it did had an ongoing monitoring and mine remediation programme and not anticipate "any significant health or environment damage," but would work with the university.
A statement said: "The recent flooding may have acted to remobilise some metal-rich sediment in the river bed and banks.
"However this material has been present in the river for decades if not centuries and has been subject to many previous high flow events."
It added that any mine flows would have been "heavily diluted by high river flows".
Meanwhile, planning consent given to homes built on a floodplain in Aberystwyth might have been considered differently if an application was submitted today, a planning chief has said.
Properties in Parc y Llyn were given the go-ahead in July 1994.
The area was flooded at the weekend forcing businesses and retailers to temporarily close. However, the homes on the site were not flooded.
Planning guidelines, TAN 15, were changed in 2004.
"The planning system is more cautious than when the permissions were granted in 1994 for the development of the Parc y Llyn area," said Russell Hughes-Pickering, Ceredigion council's assistant director of planning.
"I suspect there would be a different approach to the housing application - the retail perhaps not, they are less vulnerable."
He added that the planning system was "more cautious than back in 1994".
Mr Hughes-Pickering said "the defences worked in this case" but the retail outlets, like Morrisons and a newly opened B&Q, were flooded.
Significant damage
The houses are built on raised ground.
Environment Agency Wales said flood risk was an important factor which was considered in all relevant planning applications.
A spokesperson said: "Our role has been to advise local authorities on planning applications in line with Welsh government's planning policy Wales, and taking advice from its technical advice note TAN 15."
One of the services affected by the flooding in Aberystwyth was Ystwyth Medical Group.
Its medical centre in Llanbadarn Fawr, which has 9,000 patients, has been relocated temporarily after suffering significant damage.