Arthritis patients to help develop drugs and treatment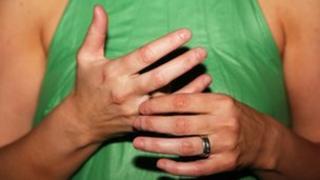 Arthritis sufferers in Wales are to be given the opportunity to help develop new drugs and treatments.
The Arthritis Research UK Experimental Arthritis Treatment Centre (Create) will be based at Cardiff University's School of Medicine.
Around 50 volunteer patients from the Cardiff and the Vale University Health Board area will take part.
The work is being partially funded with £115,000 from medical research charity Arthritis Research UK.
The drugs being tested will be offered to patients with rheumatoid and psoriatic arthritis.
Both conditions are chronic inflammatory joint conditions that result in pain, disability, joint damage and reduced quality of life.
"Management of these conditions has improved significantly with the advent of a new class of biologic drugs called anti-TNF therapy, which were pioneered and developed by Arthritis Research UK scientists," said a spokesperson for the School of Medicine.
The spokesperson added that achieving and sustaining "remission" remains the goal of many researchers, and has been shown to be important in arresting joint damage.
As well as funding from Arthritis Research UK additional financial support is being offered from the National Institute of Social Care and Health Research (NISCHR) and Cardiff University.
"We aim to improve the outcome of rheumatoid and psoriatic arthritis by developing and testing novel treatments, especially those that have the potential to stop these diseases in their tracks; resulting in higher rates of disease remission," said Earnest Choy, Cardiff University's professor of Rheumatology.
Prof Alan Silman, medical director of Arthritis Research UK, said there was a need for "in-depth testing of the benefits and safety of new drugs in small numbers of patients before large scale trials can begin".
"Our new experimental arthritis treatment centres will provide the resources to study patients in these key first stage studies," he added.