Swansea mother Michelle Smith 'murdered baby with painkiller'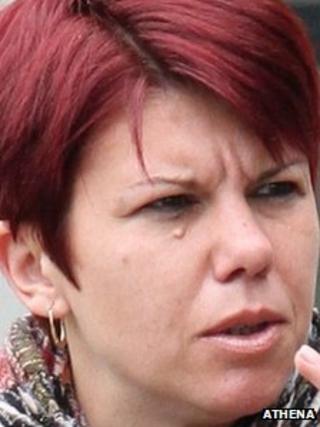 A mother poisoned her six-week-old daughter by giving her a powerful adult painkiller never used on babies, a jury has heard.
Michelle Smith, 34, denies murdering her baby Amy Louise at home in Morriston, Swansea in November 2007.
She also denies an alternative charge of causing or allowing the death of the child at Swansea Crown Court.
A blood test which showed the drug had been given to the baby before was not passed to her doctors, the jury heard.
It meant that the little girl lived to suffer at least one more dose of the powerful painkiller dihydrocodeine.
"To put it as neutrally as possible, it was unfortunate it did not come to the attention of the doctors in the case," said prosecutor Christopher Clee QC, describing the failure.
"The finding of dihydrocodeine was not only highly unusual but also highly significant."
It is claimed that Mrs Smith mixed the painkiller into her daughter's feed.
Side effects of the drug include drowsiness, a slowing-down of breathing and cardiovascular collapse which can lead to coma, the jury heard.
Both Mrs Smith and her husband Christopher Smith had previously been prescribed medication that contained the drug.
'Thriving baby'
On 9 November 2007 - the day Amy died aged 42 days - she had been seen by a health visitor and was described as "thriving".
Mrs Smith, who was at home in sole care of Amy, claims she took her upstairs to bed in the afternoon and discovered her dead one hour later.
As she was carrying what she described as her dead daughter downstairs, her husband came in from work.
Paramedics urgently called to the address were forced to give up trying to resuscitate Amy's blue-lipped, lifeless body.
Lethargic
The court heard that Amy had been born on 28 September, 2007, and during the next few weeks was twice taken by her parents to Singleton hospital, Swansea.
She appeared to be lethargic and her breathing was as low as 10 breaths per minute instead of a healthy 40.
On both occasions Amy was transferred to the University Hospital of Wales in Cardiff where she recovered.
On October 26 a urine sample was sent to the Princess of Wales Hospital in Bridgend for specialist analysis.
That test found dihydrocodeine in Amy's urine several weeks before she died, but the results were never passed onto doctors.
Text message
The court heard that after her arrest in September 2010 Mrs Smith denied administering any medicine to Amy "not even Calpol."
She was arrested and later charged in June 2011 and released on bail with a condition that she report to Neath police station.
But, said Mr Clee, on 6 January of this year she sent a text message to her father in law saying she was going "to give myself up".
The jury heard that more than four years after Amy's death Mrs Smith walked into Neath police station and told an officer, "I did it. I did it. I killed Amy."
She signed a police officer's notebook confirming what she had said but only five minutes later retracted her "confession".
The trial is expected to last four weeks.