Swansea lab's baby drug test system 'foolproof'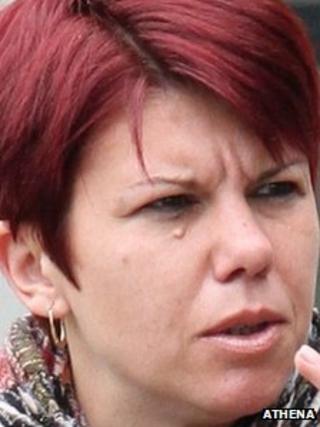 An expert in a hospital lab which discovered a baby was allegedly being drugged before she died has told a court the system for checking samples was "foolproof".
Michelle Smith, 34, denies using a powerful painkiller to murder her 42-day-old baby Amy at home in Swansea.
She denies an alternative charge of causing or allowing the child's death.
Swansea Crown Court has heard test results showing the baby was being poisoned were not passed on.
The baby was seen by a health visitor on the day she died at home in Morriston on 9 November 2007. She was described as "thriving".
Within hours, paramedics urgently called to the address were forced to give up trying to resuscitate Amy.
A crucial test more than two weeks before her death found the powerful painkiller dihydrocodiene in her system.
The court heard the potentially life-saving information was never passed to her doctors and the baby girl lived to suffer at least one more dose.
The drug is rarely used on children and never on a baby.
Further testing
Consultant Anwar Gunnerberg, who oversees testing at a laboratory at Morriston Hospital, Swansea, said the system to ensure samples were not mixed up was "foolproof".
Previously, the jury was told that Amy's sample was sent from Singleton Hospital, Swansea, to be tested in a lab at the city's Morriston Hospital.
When further testing was necessary it was sent to a specialist lab in Bridgend.
Mr Gunnerberg explained he had ordered a more specialist test of the sample after a standard test revealed Amy's urine contained an opiate.
The sample was then sent to the Princess of Wales Hospital, Bridgend, where a specialist test revealed dihydrocodiene.
Sasha Wass QC, defending, questioned the expert in detail about the process by which samples were sent from hospital to hospital.
Dr Gunnerberg said every effort was made to check that the samples were correctly labelled and matched up with paperwork when transferred.
Miss Wass suggested that any system, no matter how foolproof, was only as good as the people who used it.
Dr Gunnerberg said the Morriston Hospital laboratory dealt with around 3,000 samples a day, without counting samples sent in from GPs and given by out-patients.
The jury has heard no evidence to suggest that the sample in question, or any others, were mixed up in any way.
Breathing difficulties
Previously, the court was told that side effects of the painkiller include drowsiness, a slowing down of breathing and cardiovascular collapse which can lead to coma.
Both Mrs Smith and her husband Christopher had previously been prescribed medication that contained the drug.
Amy was urgently admitted to hospital on two occasions before her death, reportedly lethargic and suffering breathing difficulties.
It was on the first occasion that doctors ordered tests of the baby's urine and discovered it contained an opiate.
Traces of the same powerful painkiller were found in her blood after death.
The trial, due to run for up to four weeks, was adjourned until Thursday.